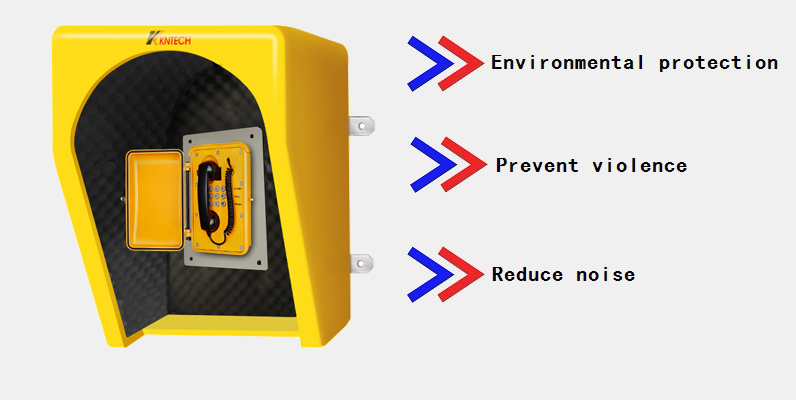 Acoustic hood RF-26
KNTECH offers a range of acoustic hood designed specifically for harsh industrial environments to address the high ambient noise that can suppress effective two-way speech.The acoustic hood is manufactured from rot/vandal resistant glass reinforced polyester, which requires no routine maintenance and is light in weight.The acoustic hood is made of very strong materials and requires no routine maintenance after installation. Different types of hood can be used depending on the user's choice.Acoustic Hood is a high performance noise reduction shelter for oil, outdoor, power plants, and for installation in weatherproof or hazardous area phones.
Soundproof telephone hood for outdoor complex environment
Usually in factories, offshore platforms, oil fields and other outdoor environments, it is very important to ensure a clear communication environment. It is very reliable to install a acoustic hood booth. It can effectively reduce environmental noise, at least 23 decibels.
How does the acoustic hood work to isolate noise?
There are several measures to control the transmission of noise:
1) Sound absorption: The sound absorption material is used to decorate the inner surface of the workshop, such as the wall and the roof, or the space sound absorber is suspended in the workshop to absorb the radiation and reflect the sound energy to reduce the noise intensity. The materials with better sound absorption effects include glass wool, slag wool, foam plastic, felt, cotton wool, aerated concrete, sound absorbing panels, wood wool boards, and the like. The inner surface of our telephone acoustic hood is made of glass wool, which has a good function of absorbing sound and reducing noise.
2) Noise reduction: A device that blocks the passage of air through the sound, that is, a muffler. This is the main measure to prevent aerodynamic noise. The muffler has a resistive muffler that uses sound absorbing material to eliminate sound, a resistant muffler manufactured according to the filtering principle, and an impedance composite muffler designed by the above two principles.
3) Sound insulation: In some cases, certain materials and devices can be used to close the sound source and isolate it from the surrounding environment, such as acoustic hood and sound insulation. The sound insulation structure should be tight so as not to cause resonance to affect the sound insulation result.
4) Vibration isolation: In order to prevent vibration and noise transmitted through solid materials such as floors and walls, vibration damping devices such as rubber pads and asphalt are provided at the foundation of the machine and at the floor and wall joints.
Noise reduction should be considered in terms of sound source, delivery route and receiver:
1.RF-26 has been designed specifically for installations in hazardous or arduous areas and as such is extremely robust and environment proof.
2.Typical applications embody the offshore and onshore organic compound industries, the facility and construction industries and plenty of additional.
3.RF-26 is factory-made in 2 halves, victimization the newest RTM university method.
4.The two halves ar separate thermosetting composite mouldings (BS476 half seven category one Surface unfold of Flame) that ar secured along yet as being command with chrome steel rivets.
5.Size: 900*700*610mm
Introduction:
The acoustic hood is both suitable for commercial locations where appearances are important or industrial premises to brighten up the working environment. It is applied in offshore and onshore organic compound business, energy business, energy corporations then on. The acoustic hood has been designed to suit especially kinds of wall mounted phones.
Smaller wall mounted phones, or intercoms will be fastened into the 650mm high by420mm wide flat space within the back of the hood.
The thermo set composite moulding is factory-made victimization the most recent RTM Massachusetts Institute of Technology method, giving the RF-26 respectable strength and resistance to impact. it's appropriate for internal or external locations as well as use as a Marine phonephone Hood.
Recent re-styling has additionally enclosed moulded-in phone graphics to the edges and a distinct flat space to the front that permits the fixing of screen written graphics.

For external or internal use, the RF-26 is meant to realize a high level of noise reduction up to 23dB. Manufactured using general-purpose resin material Class 1 fire regulation,the RF-26 is extremely robust and weatherproof. Inside the hood's outer shell is a perforated polypropylene lining that houses 50mm non-hygroscopic acoustic insulation. Fitted to the inner back wall is a stainless steel apparatus plate or Cold rolled steel plate optional pls contact marketing stuff if you need this telephone plate.

The liner membrane provides excellent ambient noise rejection in the speech interference band between 400 Hz and 2400 Hz up to 23dBA. Corrosion proof construction and quality build ensure performance in applications including offshore installations, Refineries, Chemical plants and any industrial site where ambient noise inhibits efficient communications.

Telephone layout: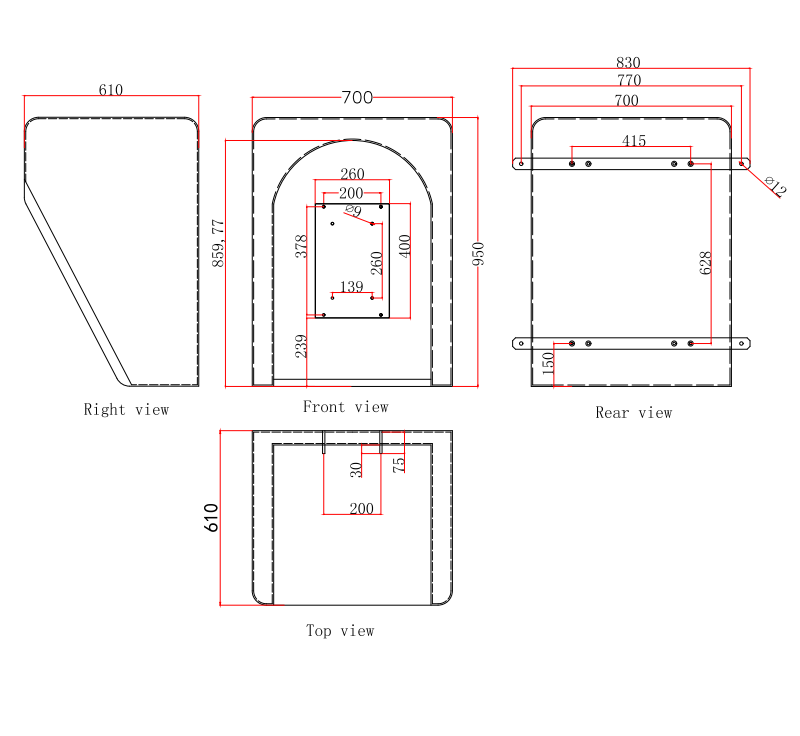 ---
==>>>>Telephone System
• Durable, lightweight, chemical tesistant body
• Excellent low temperatures impact properties
• High performance polyurethane acoustic insulation liner, resistant to mildew and rot.
• Completely maintenance free and corrosion resistant, impervious to chemical attack
• Can be used both indoors, outdoors and offshore
• Easy Clean - Scratch Resistant
• Optional colors available upon request
• Special shape for higly noisy areas
• Designed for corrosive and saline atmosphere
• UV resistant and suitable for harsh environment
• Easy fixing system
• Suitable for heavy industrial telephones (up to 60 kg)
• Pass-trough hole on the shelf for cables inlet
• Fire Retardant