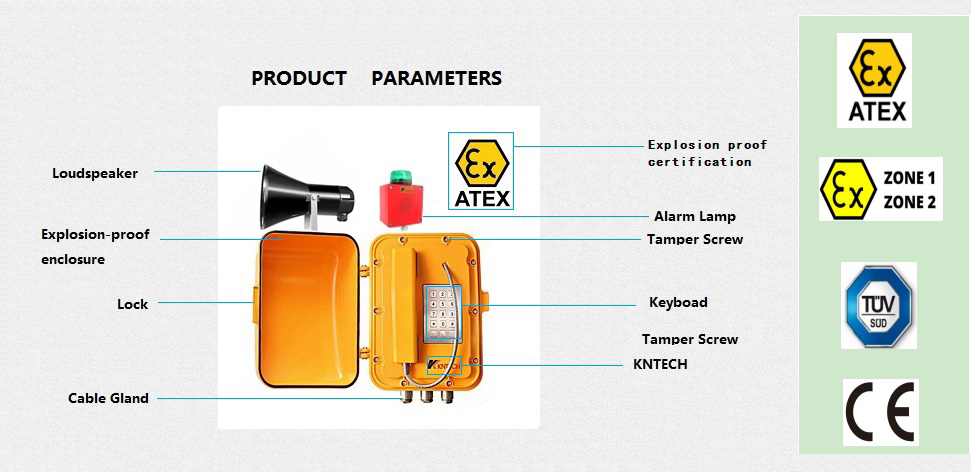 Explosion proof telephones KNEx8 VoIP
Explosion-proof phone is a waterproof, explosion-proof VoIP phone specially designed for hazardous area communication.
The explosion-proof telephone uses heavy metal as the raw material of the outer casing, and its appearance is firm and vandal-proof. It can be used in emergency environments such as petrochemical mining and the like as emergency communication equipment.
Intrinsic safety is an abbreviation of "intrinsic safety". It is a type of explosion-proof electrical equipment that can be used in industrial areas where there are explosive gases, oil platforms, mines and other dangerous areas.
Intrinsically safe power supply, if not protected by other explosion-proof type, can only be installed in non-hazardous areas, but its output (power supply, signal) is intrinsically safe and can be connected to intrinsically safe equipment in hazardous areas, such as telephones ,the explosion proof phone.
What is intrinsically safe equipment?
Intrinsically Safe Type Abbreviation: Intrinsically Safe
Uses: Electrical or equipment explosion-proof category
Interpretation: By controlling the energy level of the device itself, it is lower than the critical condition for igniting the explosive gas under normal working or fault conditions, and does not generate sparks or temperatures lower than the igniting explosive gas, rather than being shielded or blocked by other means.
Related concepts:
1. Intrinsically safe ignition protection
The special provisions for the design and inspection of such electrical equipment are included in the European standard EN 50 020, which are applied to explosives in intrinsically safe ignition protection.
Unlike other methods, intrinsically safe ignition protection involves not only a single device, but also the entire intrinsically safe circuit. If an explosive environment is not ignited by a spark or thermal effect in a circuit, the circuit is said to be an intrinsic type circuit.
In intrinsically safe equipment, appropriate measures must be taken to ensure that energy is limited to a small extent without igniting an explosive environment (including failures). All circuits in intrinsically safe equipment are designed in their own form. These devices are allowed to be used directly in the corresponding hazardous area depending on their explosion-proof rating. Auxiliary electrical equipment includes both intrinsically safe circuits and non-intrinsically safe circuits. They are usually used in safe places, but the cables enter dangerous places. Therefore, the auxiliary electrical equipment must also comply with the above-mentioned explosion-proof grade, that is, an auxiliary electrical equipment connected to the sensor or actuator in zone 0, must be an explosion-proof class 1 device.
Rugged voip explosion-proof phone in hazardous area
The KNEX-8 intrinsically safe phone is designed for use in nuclear power plants, chemical, petroleum, natural gas and other hazardous areas to provide intrinsically safe communications equipment. These phones are suitable for use in fires where the environment is filled with flammable gases, steam, dust, flammable vaporized liquids, or in an environment filled with flammable fibers in the air. KNEX-8 In these dangerous environments, normal work will not be the source of the explosion. Our intrinsically safe phone KNEX-8, cast in a metal case, has a waterproof rating of up to ip67 and is dust and drop resistant.
IECEx and ATEX
KNEX-8 is certified by international IECEx and ATEX, and its safety availability can be fully guaranteed. Its function is very powerful, we use voip communication, you can configure the phone in any pc, the configuration is simple, the call is stable, and the call is free.
Composition of KNEX8 VoIP explosion-proof telephone
The explosion-proof phones independently designed and developed by KNTECH are usually used in paga systems and petrochemical fields. The sound and light alarm and loudspeaker explosion-proof telephones we designed are usually composed of explosion-proof alarm D13 and explosion-proof speaker KNLB-Ex5.
DESCRIPTION ITEM
1.Robust aluminium alloy die-cast body, Vandal & tamper-resistanthardware.
2.Waterproof rating IP66 dust proof.
3.Full keypad with memory, dialling 10 groups of numbers stored in the memory.
4.Magnetic reed hook-switch.
5.Heavy Duty handset with hearing Aid compatible receiver, Noise canceling microphone.
6.Handset with industrial strong curly cord .
7.Stainless Steel keypad keep waterproof and dusty proof.
8.With externalsafety ring indicator D20 with 80 0.5W and LED 5Vd.c./0.75W: with built-in amplifiermodule support external explosion proof horn 8 Ohm 30W.
9.Door cover: orient automatically and good self - closing, convenient for use.
10.Temperature range from -20 degree to +55 degree.
11.Support echo cancellation.
12.Powder coated in UV stabilized polyester finish.
13.Application: Hazardousdust andgas atmospheres,petrochemical industry,Tunnel,metro, railway, LRT,speedway, marine, ship,offshore, mine, power plant, bridge etc.
INTERFACE CONNECTION SCHEMATIC DIAGRAM

a : AC power cord (option : 3-core wire)
b : Network cable above cat 5
c : Headset and D20 ringtone and LED DC5V/0.75W and explosion proof horn connection cable(option:8-core wire)
NETWORK CONNECTION
Connect the IP machine to the company's IP telephony network system. Before connecting to the network, check whether the network system is working properly.Direct network connection - In this way, you need at least one Ethernet port in your work place.Connect the LAN port to the Ethernet port of your workspace using the Ethernet cable on the back of the phone.
USER PROGRAMMING
pick up the Handset, press the keyboard storage key+address key(digital 0 --- 9)+phone number+storage key, and then hang up.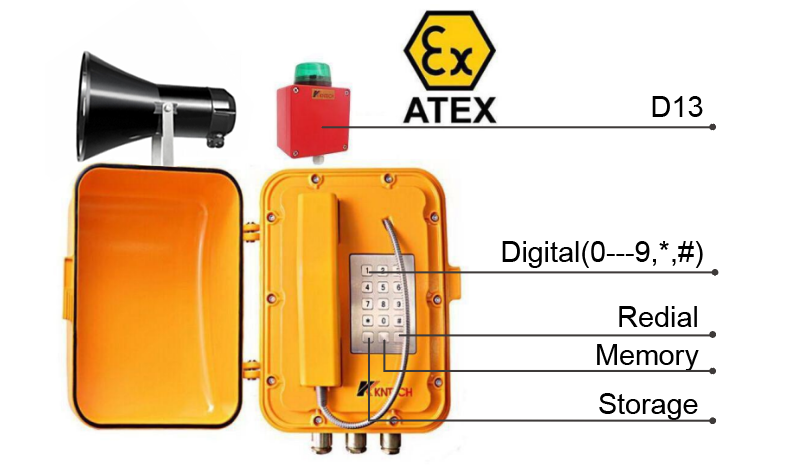 INSTALLATION