Intrinsically safe telephone for dangerous zone
Instrinsically safe telephone work as atex equipment made of GRP by die casting. The IECEx explosion proof telephone is rugged and durable. KNTECH design and manufacture the telephone with IECEX tertification and export to 50 countries. This Explosion proof Instrinsically safe telephone works in Hazardous Area. The explosion proof telephone use in zone 1 and zone 2. It can also use in Division 2.Ex II 2 GD & Ex ii 2G IECEx Certified explosion proof telephone.
KNEx1 intrinsically safe automatic telephone and anti-noise automatic telephone are high-performance and high-reliability communication terminals successfully developed by adopting modern electronic technology and fully integrated circuits. It is matched with the mine safety coupler and can be connected with various existing ground switches or dispatching mainframes to form a coal mine production scheduling communication system. The telephone can also be applied to other harsh working environments with high temperature, high noise, high temperature and heavy pollution, such as power plants, coal preparation plants, steel plants and ports.

ATEX electrical equipment explosion-proof type
1, Ex d (explosion-proof type)
2, Ex e (increased safety type)
3, Ex i (intrinsically safe)
4, Ex m (casting type)
5, Ex n (non-sparking type)
6, Ex p (aerated positive pressure type)
7, Ex o (oil immersion type)
8, Ex q (Zeng'an Zhongchong type)

Intrinsically safe: The energy of the circuit is limited by the relevant technology, so that the electrical energy generated in the electrical equipment generates sparks or hot surfaces that are not sufficient to detonate substances in the explosive environment.
Increased safety type: Through the design of the product, it can eliminate the detonation source of hot surface or electric arc or electric spark to achieve the purpose of explosion protection.
Molded type: A device or part of a device that may ignite an explosive environment is encapsulated in a substance to isolate the device or part thereof from substances in an explosive atmosphere for the purpose of explosion protection

Explosion type of our phone

Telephone Features
IECEx certified
Zone 2, type Ex e ib mb I IC T6 Gb.
Analogue telephone matching with most PABX, PBX and PAX system
Telephone line powered. No external power or battery required
Robust SMC 2600 glassfibre reinforced polyester die-cast body
LCD display, SUS Metal keypad 24digit, Magnetic reed hook-switch
Busy tone detection for auto release the line if line busy
High temperature approval, Auto answer auto release line.
Full Soft lock: only dial out from phone book 50 memory address number
Half soft lock: limit to dial out starting number, e.g. "00852" area code
Ring sound 95 dB dfd in 1 m and 10 ringing tone melodies selectable
Listening by loudspeaker: 70dB in 1m
Phone book memory: 50 address ( name & number) programmable
Dry contact for external control automation (Option)

LCD display include
Manu setting
Welcome text programmable e.g: welcome to koontech telephone
Full soft lock or half soft lock
Phone book up to 50 address number selectable
Ring speaker up to 4 level selectable
Hands free talking sound up to 4 level selectable
Handset receiver sound up to 4 level selectable
Up to 9 Ring tone melodies selectable
Back light up to 4 level selectable
The dialing number
Calling time counting
INSTALLATION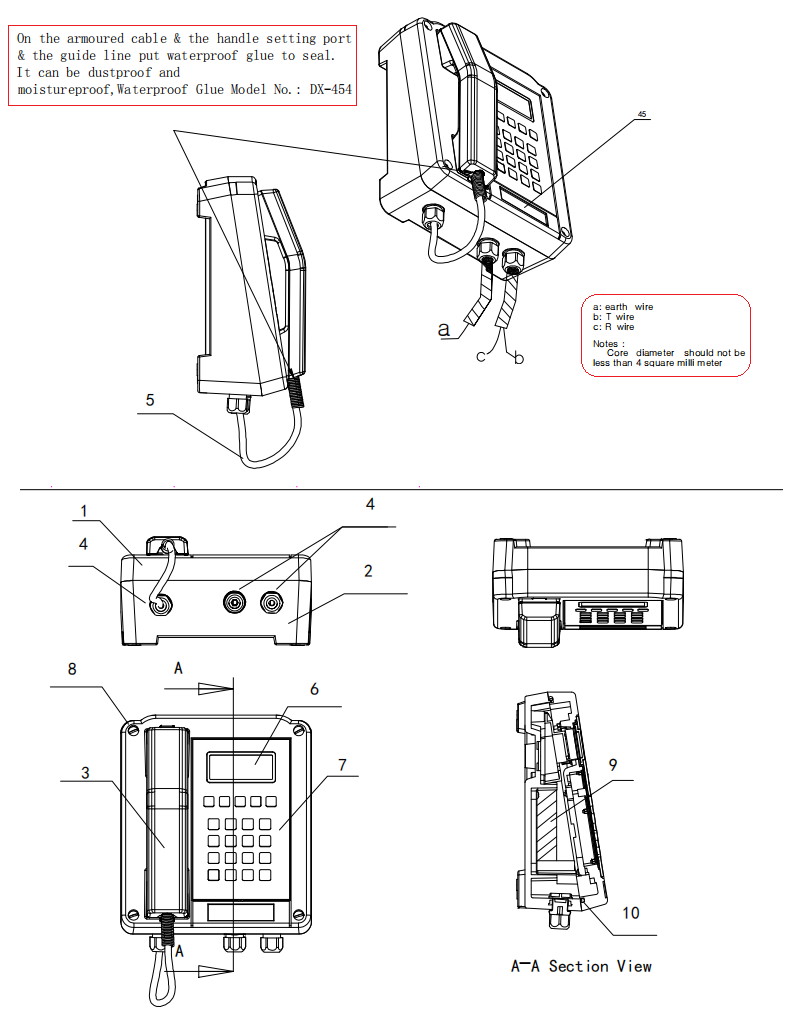 1.The screws of upper cover and lower cover must be torx screws.
2.Handset and microphone must be installed with alayer of water proof membrane to prevent water or dust into the inside.
3.Tighten the screws of upper and lower cover to prevent water.
4.Metal sheath of handset should be installed and fastened well .
5.Fuse gluing" in accordance with "Fuse gluing operating instructi ons KO0N-WI -PDN-01 6-A0".
6.To test the function of the board is good before encapsu lati on conduct operat ions 。The encapsulation method in accordance with encapsulation process documents K0ON-WI -PDN-01 8-A0.
7.Waterproof cablegl and must be ti ghtened. And make sure the te lephone line and cable gI and should be cl osest.
8.AlI screws must not be loose.
material : PVC white wording on black 3mm thickness With glue, adhes ive fixed
TELEPHONE INSTALLATION SIZE