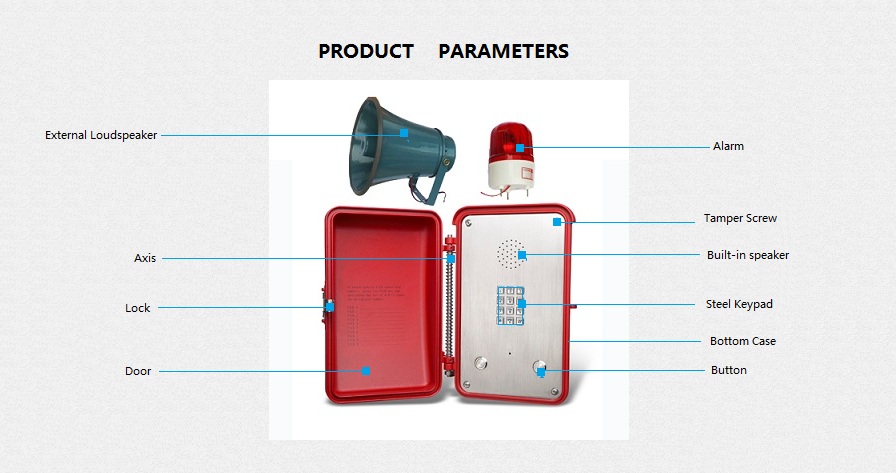 KNSP-15MT-L5D3-K2 rugged telephone
As a
Industrial communication
equipment KNSP-15 is
rugged telephone
are widely used for tunnel and subway. the rugged phone is strickly tested by salt spray test for 4 days to 4 weeks. KNTECH provide complete communication system including Voip phone and analogue phone. The the rugged phone are widely used on ship, cruises, drilling platform, dock. KNTECH provide rugged telephone and
rugged waterproof phones
for over 15 years.
1. Robust aluminium alloy die-cast body, Vandal resistant and tamper-resistant hardware, simple installation.
2. Full keypad with memory, 1 button programmable ,support free dial.
3. With external 30W loud speaker.Material:metal. Impeddance:8Ω.Freq.Resp:300-7000HZ. S.P.L:(1M/W):108dB. Megenet:ALum
4. With red flash Light. Work voltage: 12V DC/10W
5. Lightening protection to ITU-Trecommendation K.21.
6. Heavy Duty handset with hearingAid compatible(HAC) receiver,Noise canceling microphone.
7. Door cover: orient automatically and good self - closing, convenient for use.
8.Temperature range from -40 degree to +70 degree.
9.Support echo cancellation.
10.Remote software upgrade, configuration and monitoring.
11. Optional 7 minute time-limited call.( This function upon buyer's requirement).
12. Powder coated in UV stabilized polyester finish.
13. Application: Tunnel, metro, railway, LRT, speedway, marine, ship,offshore, mine, power plant,
bridge etc.
Kirk electro dynamic transducer for both handset transmitter and receiver
Spring cable or armoured cable to attach the handset to the telephone main unit
Stainless steel cable to connect exchange.
Inductive coupler fitted for hearing aid compatibility.
Handset integrity wiring to enable exchange to check if the phone is still operational.
Well treated PCB used inside the phone.
Robust screw terminals used for the connection of ringer, handset, line in, hookswitch.
Selectable 7 minute time out, to release the line if the handset is left off hook.
All connectors be greased in production.
RCM: AS/NZS CISPR 32 Australian communications:AS/CA S004
Australian Equipment-safety: AS/NZS 60950.1:2015
EMC: EN50121(Railway application-Electromagnetic Compatibility)

Unit size: 320 *205 *120mm N.W: 5.8KG+Loudspeaker 1.5KG +light 0.33KG
1pcs packing box size: 439 *277 *191mm Unit N.W:6.8KG +1.5KG +light 0.33KG
6pcs in 1 outer Carton box: size: 730*390*340mm N.W: 42KG+10.5KG +light 2KG
You May Like: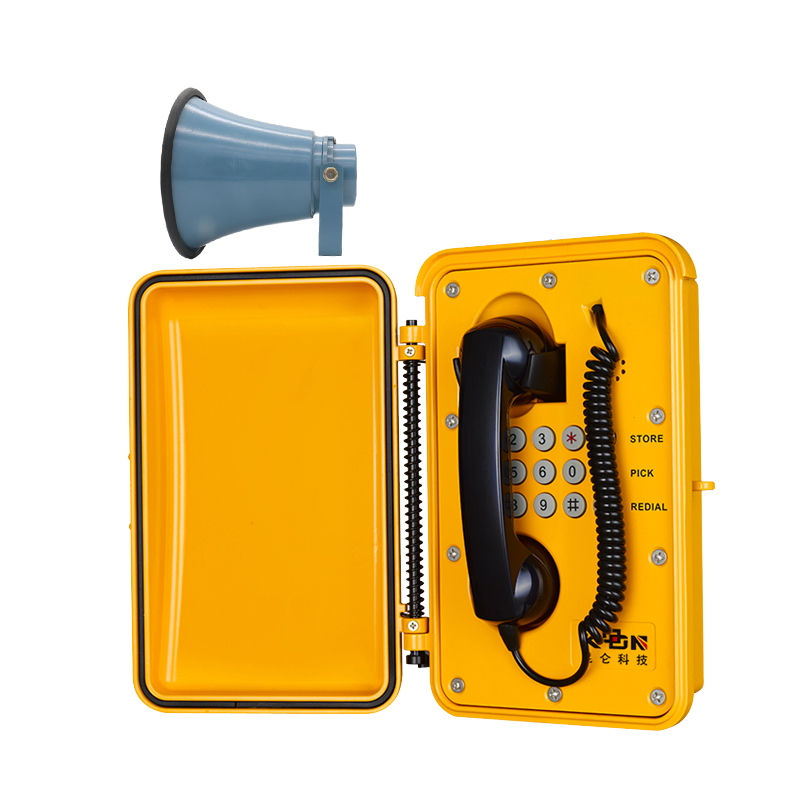 KNSP-08L2
Water resistant telephone
NMS-X1 SNMP
Unified network management system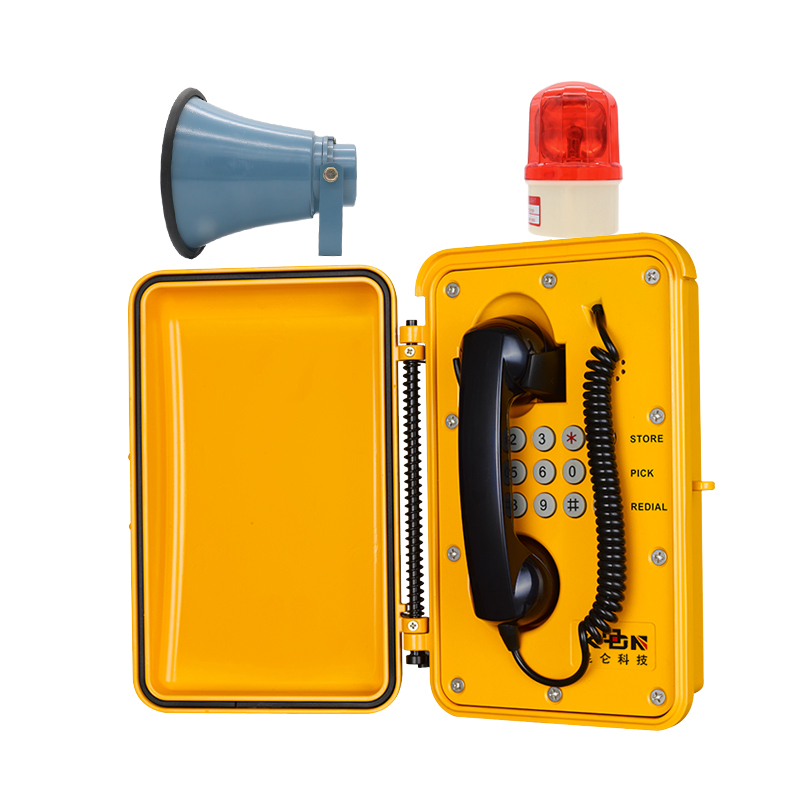 KNSP-08L2D6
Outdoor waterproof telephone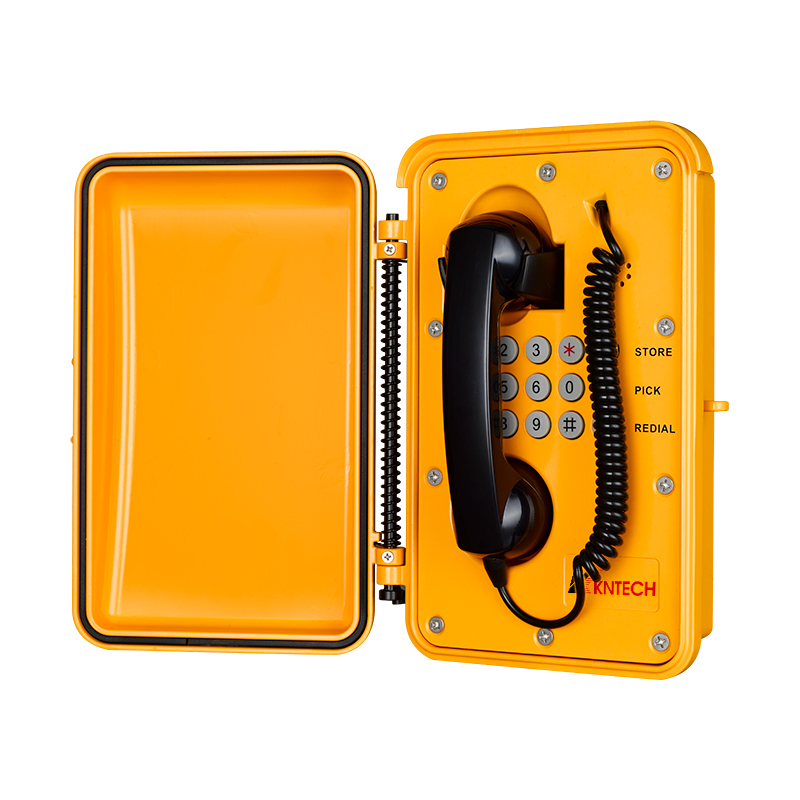 KNSP-01
Weatherproof telephone
1. Applicable for various types of SPC exchange and dispatching exchange system with feeding voltage of 33-60V.
2. Ambient temperature:-30℃~60℃ Relative humidity:10%~95%
Atmospheric pressure: 86~106Kpa Circumstance noise:≤ 60dB(A)
3. Sound level of ringing:≥70dB(A).
4. Standard frequency:low frequency group:697、770、852、941Hz,
high frequency group:1209、1336、1477Hz, frequency deviation:≤±1.5%
If service line is a 3Km signal-level:
Standard frequency:low frequency group:-9dB±3dB,high frequency group:-7dB±3dB,level difference between low and high frequency of compound signal:2±1dB,the total distortion caused by intermodulation of harmonic wave is lower than the basic level by at least 20dB.
5. Call transmission index:(5KM)SLR≤12,RLR≤-1,STMR≥10, output impedance is 600Ω.
6. Super strong function is available for dialing 12 groups of numbers stored in the memory (maximum length of each store number is16 digits)
7. AC power supply: 120V~240V
8. Amplifier and loud speaker: 15W ( 30W optional)
VoIP SIP2.0 telephone DTMF dialing Audio Codes:G.711, G.723, G.726,G.729
MTBF:100000hours MTTR: 2 hours Network:10/100 BaseTX Ethernet, RJ45
Free dial (maximum length of each number is 16 digits) connectors, Cat5e or better
Communication: Full duplex 2-way hands-free IP Protocols:IPv4, TCP, UDP, RTP, DHCP, SIP
communication 2 x LAN(IEEE 802.3af), Network Access
Call Control Signaling:VOIP SIP Info(DTMF), RFC Control(IEEE 802.1x),STP(IEEE 802.1d),
2833(DTMF) RSTP(IEEE 802.1d-2004)
Programming:Non-volatile flash memory
Local power, Input : AC 110V or AC 220V programming and configuration through Web GUI
Management and Operation:DHCP and static IP,
remote automatic software upgrade, centralized
monitoring.
Echo cancellation code:G.167/G.168

Order information:
| | | |
| --- | --- | --- |
| Model number | Power Supply | Item Number |
| KNSP-15MT_L-IP-R_T110 | AC110V | SP15M0062 |
| KNSP-15MT_L -IP-R_T220 | AC220V | SP15M0041 |
*T110---AC 110VTransformer with Tripod flat / octagona
*T110---AC 110VTransformer with Tripod flat / octagona