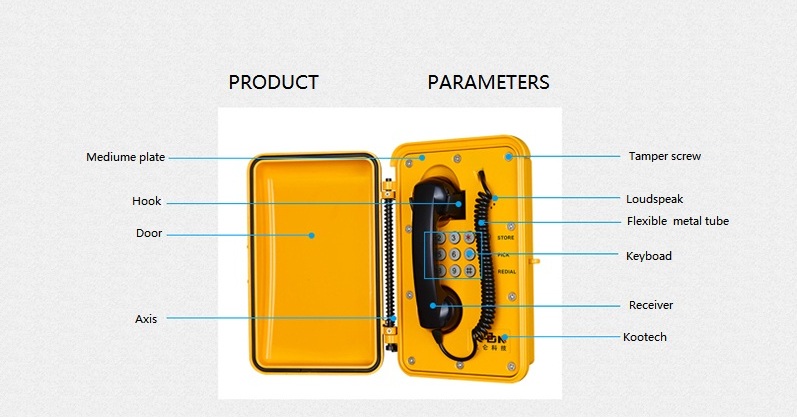 Weatherproof telephone KNSP-01
The weatherproof telephone adopts a metal weatherproof shell to minimize environmental damage to the phone. The sturdy shell can prevent damage to the phone. The airtightness is good, and the waterproof level reaches IP66. It can be used normally in outdoor weather.
The weatherproof telephone is an emergency phone that specifically addresses the harsh environment of outdoor industry.

The Most Professional
telephone
Manufacture
in Asia!
weatherproof telephone for tunnel purpose made of aluminium alloy material by die casting. The telephone is rugged and durable. Special sealing design can ensure complete
waterproof
grade up to IP66. weatherproof , dustproof and moisture-resistant. The weatherproof telephone widely used in tunnel and outdoor. Most metro and high-speed rail project need install IP66 telephone for emergency communication. Also expressway and power plant need weatherproof phones. marine need moisture-resistant telephones.
The weatherproof
telephone widely used in tunnel and outdoor
. Most metro and high-speed rail project need install IP66 telephone for emergency communication.
The weatherproof telephone uses aluminum alloy as the raw material for the weatherproof enclosure, and the exterior is strong and has an explosion proof effect. It is available in both VoIP and analog versions and is customizable.
Why use an weatherproof telephone?
In addition to normal office telephone, home phone ;The outdoors, industrial plants, tunnels, construction site, harsh environment, also need to use the special requirements of a number of telephone communication. The weatherproof telephone is designed for outdoor by KNTECH. An outer metal casting, sealing, waterproof rating to IP66. Using this telephone, to meet the communication requirements for outdoor, and not easily damaged, long life, good stability.
Why use the KNTECH'S weatherproof telephone ?
KNTECH, is an industrial practitioners 20 years of professional telephone communications companies, we have first-class R & D and service team. Each weatherproof telephone have been waterproof tested and obtain international certificates. We have our own factories, we can provide cheap, quality assurance, after-sale protection of weatherproof telephone for you. You can buy with confidence.
DESCRIPTION ITEM
1. Robust aluminium alloy die-cast body, Vandal & tamper-resistant hardware, easy Installation.
2. Waterproof rating IP66 dust proof.
3. Full keypad with memory, 10 button programmable speed-dial telephone.
4. Door cover: orient automatically and good self - closing, convenient for use.
5. Weather resistant to IP66 standard, service temperature range from -30 degree to +75 degree.
6. Magnetic reed hook-switch.
7. Lightening protection to ITU-T recommendation K.21.
8. Heavy Duty handset with hearing Aid compatible receiver, Noise canceling microphone.
9. Handset with industrial strong curly cord .
10. Silicon keypad keep waterproof and dusty proof.
11. Phone integrity wiring to enable the telephone system to check if the telephone unit is still
Operational.(if PABX have this available we can provide this function).
12. Optional 7 minute time out to release the line if the handset is left off hook. This function
upon buyer's requirement).
13. Powder coated in UV stabilized polyester finish.
14. The housing covered with a layer of reflective label for easy identification at night.Optional
15. Application: Tunnel, metro, railway, LRT, speedway, marine, ship,offshore, mine, power plant, bridge etc.
Weatherproof telephone enclosure
We offer industrial grade outdoor weatherproof telephones with a rugged, weatherproof telephone enclosure. We offer a weatherproof telephone enclosure that screws the weatherproof telephone in a weatherproof phone case with a solid outer casing. The housing uses a spring door that automatically closes the phone enclosure. The weatherproof phone enclosure, which closes the phone case and is placed outdoors, minimizes damage to the phone.
Made of metal and sturdy
The spring door is automatically closed and is not easily opened by outside interference.
With RJ45 interface
INSTALLATION

Rigorous Testing Quality Assurance
CERTIFICATION
RCM: AS/NZS CISPR 32 Australian communications:AS/CA S004
Australian Equipment-safety: AS/NZS 60950.1:2015
EMC: EN50121(Railway application-Electromagnetic Compatibility)
PACKAGING

Unit size:320 *205*120mm Unit: N.W:5.3KG
1pcs packing box size: 439 *277 *191mm Unit: N.W:5.3KG Unit G.W:7KG
6pcs in 1 outer Carton box: size: 730*390*340mm N.W:31.8KG G.W:34KG
---
==>>>> Product Specification
SPECIFICATION - Analogue(Model NO.SP0010012)
1. PSTN analogue telephone 2. DTMF dialing
3. MTBF:100000hours 4. MTTR: 2 hours
5. Connection: RJ11 screw terminal pair cable 6. Sound level of ringing:over 70dB(A).
7. Call transmission index:(5KM)SLR<12,RLR<-1,stmr>10, output impedance is 600 Ohm.maximum distance: 7KM
8. Applicable for various types of SPC exchange PABX and dispatching exchange system with feeding voltage of 33-60V.
9. Connection: RJ11 screw terminal pair cable (or RJ11 Socket of plug upon request),with stainless steel cable protected
10. Super strong function is available for dialing 12 groups of numbers stored in the memory,(maximum length of each number is 16 digits)
11. Standard frequency:low frequency group:697. 770. 852. 941Hz,high frequency group:1209. 1336. 1477Hz, frequency deviation:-1.5% ~ +1.5%
12. Ambient temperature:-30 ~ +60 degree. Relative humidity:10%~95% Atmospheric pressure: 86~106Kpa Circumstance noise:less than 60dB(A)
SPECIFICATION - VoIP(Model NO.SP0010032)
1. VoIP SIP2.0 telephone 2. DTMF dialing
3. MTBF100000hours 4. MTTR: 2 hours
5. Auxiliary Contacts:1 Aux Output, dry contact 6. Rated load:0.3 A at 125 VAC; 1 A at 30 VDC
7. Contact Ratings. Load: Resistive load 8. Echo cancellation code:G.167/G.168
9. Rated carry current:1A 10. Max.switching current:1A
11. Max.switching voltage:125 VAC,60VDC 12. Audio Codes:G.711, G.722, G.729
13. IP Protocols:IPv4, TCP, UDP, TFTP, RTP, RTCP, DHCP, SIP
14. Free dial (maximum length of each number is 16 digits)
15. Communication: Full duplex 2-way hands-free communication
16. Call Control Signaling:VOIP SIP Info(DTMF), RFC 2833(DTMF)
17. Network:10/100 BaseTX Ethernet, RJ45 connectors, Cat5e or better
18. Power:Power over Ethernet, IEEE802.3af, Class 0 Local power, 12VDc,Idle 2W, Max 10W
19. Programming:Non-volatile flash memory programming and configuration through Web GUI
20. Management and Operation:DHCP and static IP, remote automatic software upgrade, centralized monitoring, status LED
21. LAN Protocols:Power over Ethernet(PoE,802.3af), WLAN(IEEE 802.3af), Network Access Control(IEEE 802.1x),STP(IEEE 802.1d), RSTP(IEEE 802.1d-2004)