It is specially designed to use in high wet environment of all kinds of electric power tunnel, with the characteristics of high protection, and low power consumption. A line can support 10 sets of telephones, and the standard of DTMF code sending exceeds 10 kilometers. With 1W speakers built-in, voice is clear and loud. The transmission distance could reach to 10 kilometers without additional power supply.

1. Product features
Automatically dial with one button
Call time limited
Send address code of this machine, and code sending time can be adjustable
High waterproof, dustproof performance, full aluminum phone cover, IP66 protection grade.Sprayed with imported reflective lacquer on the surface, bright color, 5-10 years not fading, completely conform to the standards of GB/T5237.2-2000.

2. Scope of application
It is applied to highway for emergency call, railway or subway for interval telephone call, and tunnels, electric tunnels for maintenance call.
3. Technical Parameters
Ambient temperature:-30 ~ +60 degreeRelative humidity:10%~95%
Atmospheric pressure: 86~106Kpa Circumstance noise:less than 60dB(A)
Sound level of ringing:over 70dB(A).
Standard frequency:low frequency group:697. 770. 852. 941Hz,
high frequency group:1209. 1336. 1477Hz, frequency deviation:-1.5% ~ +1.5%
If service line is a 3Km signal - level:
Standard frequency:low frequency group:-12dB~-6dB, high frequency group:-10dB~-4dB, level difference between low and high frequency of compound signal:0dB~3dB, the total distortion caused by intermodulation of harmonic wave is lower than the basic level by at least 20dB.
Call transmission index:(5KM)SLR<12,RLR<-1,STMR>10, output impedance is 600 Ohm
Parameters is kept in EEPROM, no losing with power-fail.

4. Function introduction:
Automatic dial-up function: press dial-up keys, 3 ~ 5 seconds for you will be designated to dial the number.
Call time limited: Automatically start seven minutes timing when connecting a telephone. When time is up, phone automatically hangs up in order to prevent lines occupied because of long conversation.
Send address code: Press the answering button when there is a phone call. Then send address code within 2s after answering. When call out, press the call button, send out this phone address code within 1-63s.Achieve the function of delay time through the internal dial-the-code switch.


Turn 1 to ON means delaying 1s. 2 mesns 2s.3 means 4s
......6 means 32s.

5. Telephone installation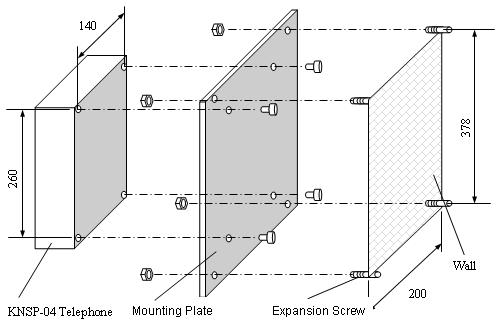 Installation dimensions: 320*230mm
Using four M8-6H*15mm machine screws to install

6. Packing specification


Phone size: 320*230*120(mm)
Outside box size:439*277*191(mm)
Packing materials: Pearl cotton cartons
Gross weight:5.6KG
Net weight:3.8KG
VOIC OVER IP- SIP (Optional)
Connection type: RJ45 Socket inside sealed enclosure
Power supply: Standard PoE powered (pls tell if you need External 12V dc)
Call set-up Protocol: Session Initiation Protocol(SIP)
Configuration: DHCP or STATIC IP address provisioning