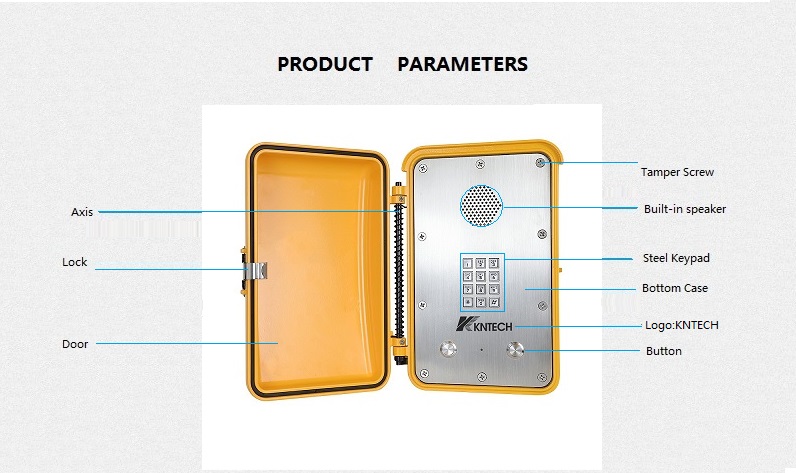 Industrial Phone KNSP-15MT
The industrial phone uses the ip signal as the signal source, and the outer casing uses metal as the raw material. The industrial telephone has the characteristics of explosion-proof and waterproof.
Industrial phones are often used outdoors as emergency phones.
As a Industrial communication equipment KNSP-15MT is rugged industrial telephone are widely used for tunnel and subway. the rugged phone is strickly tested by salt spray test for 4 days to 4 weeks. KNTECH provide complete communication system including Voip phone and analogue phone. The the rugged phone are widely used on ship, cruises, drilling platform, dock. KNTECH provide rugged telephone and rugged waterproof phones for over 15 years. It is specially designed to use in high wet environment of all kinds of electric power tunnel, with the characteristics of high protection, and low power consumption. A line can support 10 sets of telephones, and the standard of DTMF code sending exceeds 10 kilometers. With 1W speakers built-in, voice is clear and loud. The transmission distance could reach to 10 kilometers without additional power supply.
Product features
Automatically dial with one button
Call time limited
Send address code of this machine, and code sending time can be adjustable
High waterproof, dustproof performance, full aluminum phone cover, IP66 protection grade.
Sprayed with imported reflective lacquer on the surface, bright color, 5-10 years not fading, completely conform to the standards of GB/T5237.2-2000
.
It is applied to highway for emergency call, railway or subway for interval telephone call, and tunnels, electric tunnels for maintenance call.
Ambient temperature:-30 ~ +60 degreeRelative humidity:10%~95%
Atmospheric pressure: 86~106Kpa Circumstance noise:less than 60dB(A)
Sound level of ringing:over 70dB(A).
Standard frequency:low frequency group:697. 770. 852. 941Hz,
High frequency group:1209. 1336. 1477Hz, frequency deviation:-1.5% ~ +1.5%
If service line is a 3Km signal - level:
Standard frequency:low frequency group:-12dB~-6dB, high frequency group:-10dB~-4dB, level difference between low and high frequency of compound signal:0dB~3dB, the total distortion caused by intermodulation of harmonic wave is lower than the basic level by at least 20dB.
Call transmission index:(5KM)SLR<12,RLR<-1,STMR>10, output impedance is 600 Ohm
Parameters is kept in EEPROM, no losing with power-fail.
1. Robust aluminium alloy die-cast body, Vandal resistant and tamper-resistant hardware, simple installation.
2. Full keypad with memory, 1 button programmable, support free dial.
3. With Internal 3W loud speaker. Impeddance:8Ω.Freq.Resp:300-7000HZ.
4. Lightening protection to ITU-Trecommendation K.21.
5. Heavy Duty handset with hearingAid compatible(HAC) receiver,Noise canceling microphone.
6. Door cover: orient automatically and good self - closing, convenient for use.
7.Temperature range from -40 degree to +70 degree.
8.Support echo cancellation.
9.Remote software upgrade, configuration and monitoring.
10. Optional 7 minute time-limited call.( This functionupon buyer's requirement).
11. Powder coated in UV stabilized polyester finish.
12. Application: Tunnel, metro, railway, LRT, speedway, marine, ship,offshore, mine, power plant, bridge etc.
Automatic dial-up function: press dial-up keys, 3 ~ 5 seconds for you will be designated to dial the number.
Call time limited: Automatically start seven minutes timing when connecting a telephone. When time is up, phone automatically hangs up in order to prevent lines occupied because of long conversation.
Send address code: Press the answering button when there is a phone call. Then send address code within 2s after answering. When call out, press the call button, send out this phone address code within 1-63s.Achieve the function of delay time through the internal dial-the-code switch.
Telephone installation
Installation dimensions: 320*230mm
Using four M8-6H*15mm machine screws to install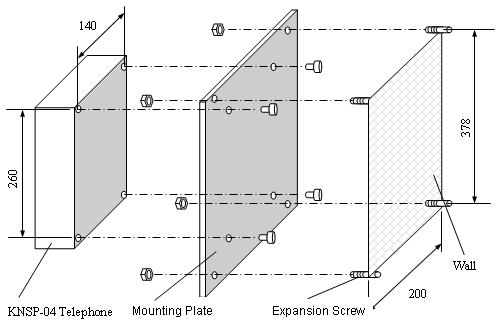 INSTALLATION

RCM: AS/NZS CISPR 32 Australian communications:AS/CA S004
Australian Equipment-safety: AS/NZS 60950.1:2015
EMC: EN50121(Railway application-Electromagnetic Compatibility)

Unit size: 320 *205 *120mm N.W:4.86KG
1pcs packing box size: 439 *277 *191mm Unit N.W:5.8KG
6pcs in 1 outer Carton box: size: 730*390*340mm N.W:36.5KG
You May Like: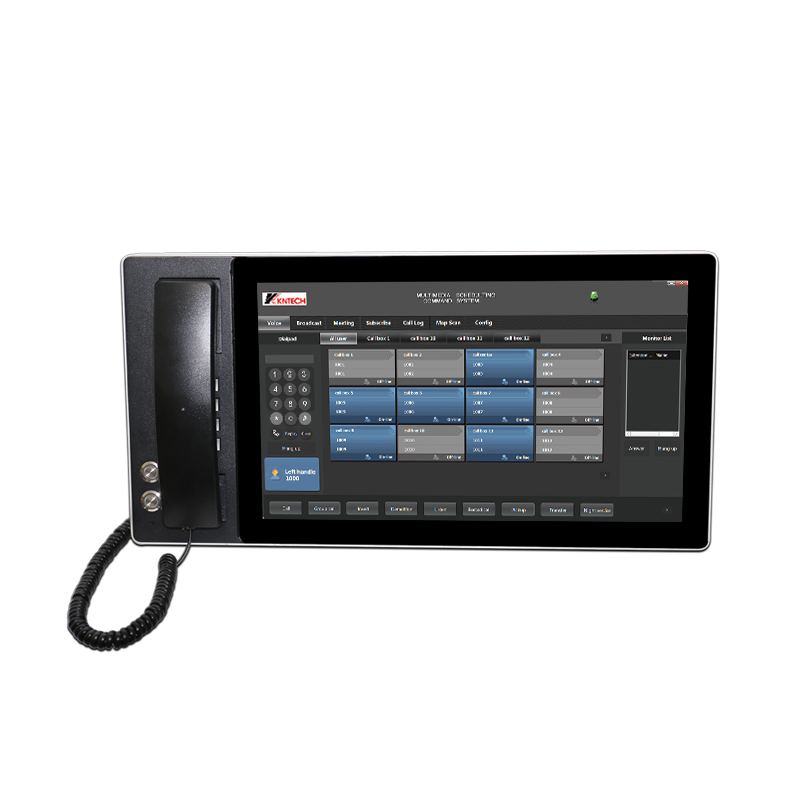 KNDDT-2-A15
Telephone Operator Console
NMS-X1 SNMP
Unified network management system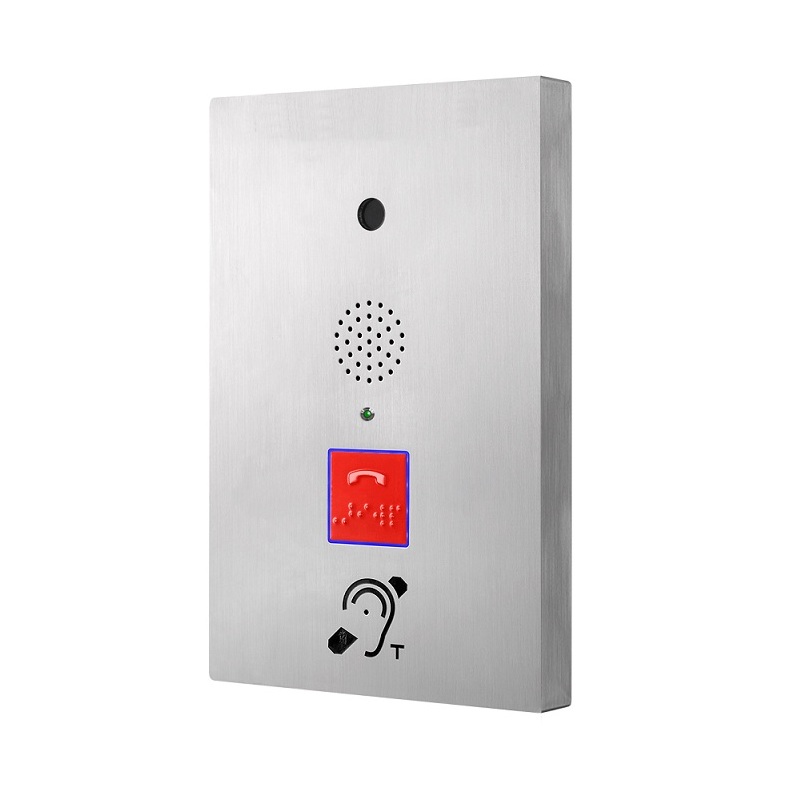 KNZD-20W
Video Intercom System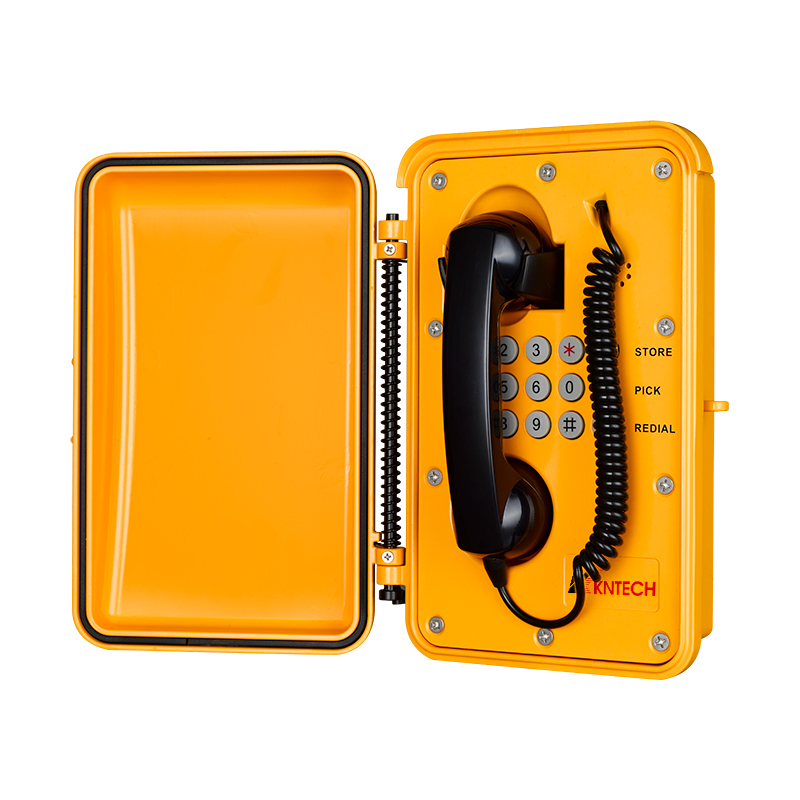 KNSP-01
Weatherproof telephone
---
==>>>> Product Specification
SPECIFICATION
VoIP SIP2.0 telephone DTMF dialing Audio Codes:G.711, G.723,G.726, G.729
MTBF:100000hours MTTR: 2 hours Network:10/100 BaseTX Ethernet, RJ45
Free dial (maximum length of each number is 16 digits) connectors, Cat5e or better
Communication: Full duplex 2-way hands-free IP Protocols:IPv4, TCP, UDP,, RTP , DHCP, SIP
communication 1 x LAN Protocols:Power over
Call Control Signaling:VOIP SIP Info(DTMF), RFC Ethernet(PoE,802.3af)
2833(DTMF) 1 x WLAN(IEEE 802.3af), Network Access
Power:Power over Ethernet, IEEE802.3af, Class 0 Control(IEEE 802.1x),STP(IEEE 802.1d),
Local power, 12VDc,Idle 2W, Max 10W RSTP(IEEE 802.1d-2004)
Auxiliary Contacts: (option) Programming:Non-volatile flash memory
1 Aux Output, dry contac programming and configuration through Web GUI
Contact Ratings. Load: Resistive load Management and Operation:DHCP and static IP,
Rated load:0.3 A at 125 VAC; 1 A at 30 VDC remote automatic software upgrade, centralized
Rated carry current:1A monitoring.
Max.switching voltage:125 VAC,60VDC Echo cancellation code:G.167/G.168
Max.switching current:1A

Order information:
| | | |
| --- | --- | --- |
| Model number | Power Supply | Item Number |
| KNSP-15MT-IP-R_AD | DC12V 1A | SP0150052 |
| KNSP-15MT-IP-R_P | POE | SP0150012 |
| KNSP-15MT-IP-R_ADP | DC12V 1A +POE | SP0150092 |
*AD---Adapter UL (Input : AC110~240V , Output : DC12V 1A)