The industrial intercom wall mounted
Industrial intercom is designed for heavy industry or noisy environment. It has a solid shell to protect the keys and the calling main board, which has good ip ratings waterproof and can reach ip66. The intercom has a complete set of functional keys, which can dial any user at will, and it has multiple groups of speed dial buttons for quick calls.
Industrial two-way telephone main board, with anti-electromagnetic interference, built-in 10w speaker, if needed, you can connect external amplifier and speaker to help you make a clear call in a noisy environment.
The industrial intercom and the industrial intercom system
Demand for industrial two-way intercom voice communication system
Large industrial areas are divided into several departments, and then each department cooperates to improve work efficiency. For example, the factory is generally divided into production department, storage department and office department. The communication and coordination between traditional factory departments still rely on telephone for one-to-one communication. Modern large factories use network communication platforms to build a set of internal industrial voice communication systems. It is very important for information release, intercommunication, sharing and production scheduling, coordination, and notification between various departments.
Main functions of industrial intercom system
1.Information broadcast
Provides functions such as background music broadcasting, production safety, work instructions, and precautions for various operating areas, production workshops, and office areas of industrial and mining enterprises, and functions such as unattended ringing in the machine room at regular intervals.
2. Two-way intercom
Voice intercom terminals are installed in various operating areas, production workshops, and production management centers of industrial and mining enterprises. Staff in the front-end area can conduct two-way communication with the computer room through the voice intercom terminals, get timely guidance and help, and conduct business voice communication. The call history is completely stored in the server, which is convenient for future inquiry and retrieval.
3. Remote broadcast
Each production office or leadership office can call the terminals in the front-end production operation areas through remote call stations, and perform voice information broadcasting, production command scheduling, and emergency notification.
4. Emergency broadcast
In the event of an emergency or fire in an industrial and mining enterprise, it can be broadcasted in different regions or the entire area according to the original emergency plan, and the personnel can be quickly evacuated to ensure the safety of personnel and public property.
More details you can click industrial intercom system.
PRODUCT DESCRIPTION
1. Robust aluminium alloy die-cast body, Vandal & tamper-resistant hardware, easy Installation.
2. Waterproof rating IP66 dust proof.
3. Full keypad with memory, 2 button programmable telephone, support free dial.
4. Lightening protection to ITU-T recommendation K.21.
5. Heavy Duty handset with hearing Aid compatible(HAC) receiver, Noise canceling microphone.
6. Silicon keypad keep waterproof and dusty proof.
7. Door cover: orient automatically and good self - closing, convenient for use.
8. Temperature range from -40 degree to +70 degree.
9.Support echo cancellation.
10.Remote software upgrade, configuration and monitoring.
11. Optional 7 minute time-limited call.( This functionupon buyer's requirement).
12. Powder coated in UV stabilized polyester finish.
13. Application: Tunnel, metro, railway, LRT, speedway, marine, ship,offshore, mine, power plant, bridge etc.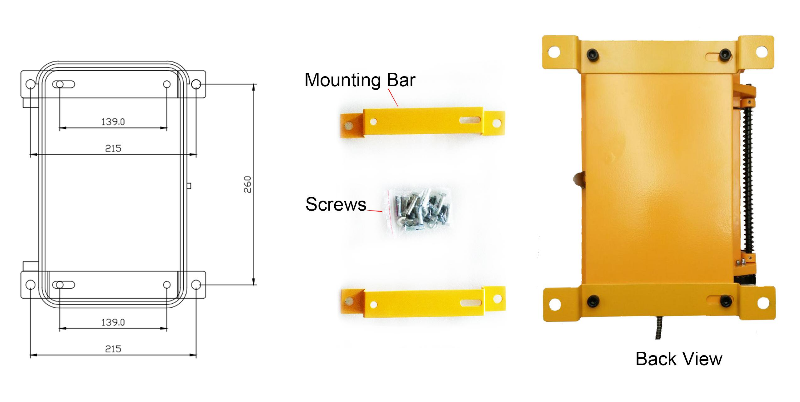 RCM: AS/NZS CISPR 32 Australian communications:AS/CA S004
Australian Equipment-safety: AS/NZS 60950.1:2015
EMC: EN50121(Railway application-Electromagnetic Compatibility)


Unit size:320 *205*120mm Unit: N.W:4.74KG
1pcs packing box size: 439 *277 *191mm Unit N.W:5.7KG
6pcs in 1 outer Carton box: size: 730*390*340mm N.W:35.7KG
You May Like: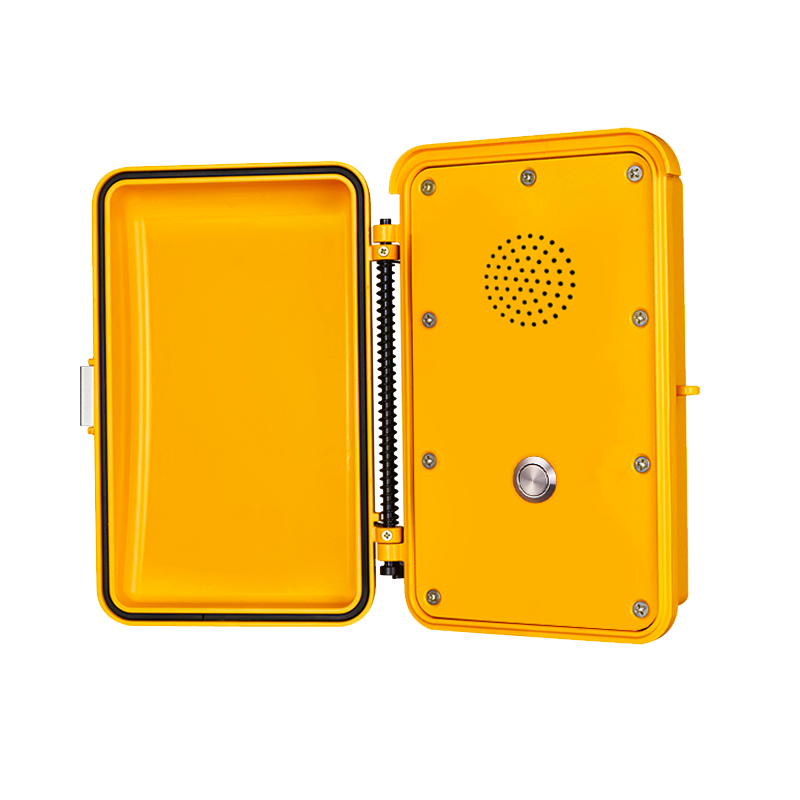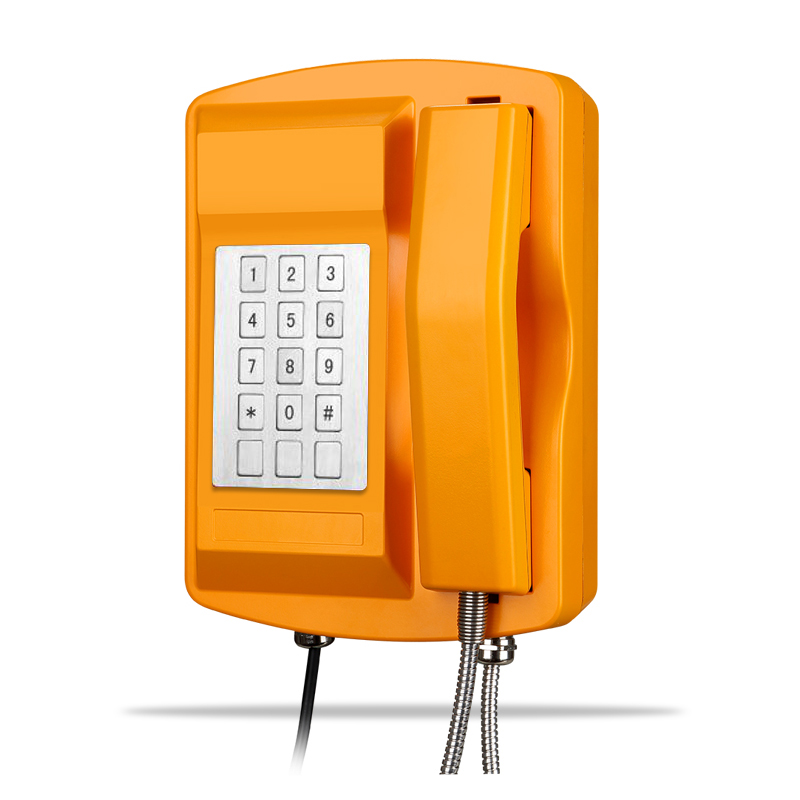 KNSP-18
Moisture Proof telephone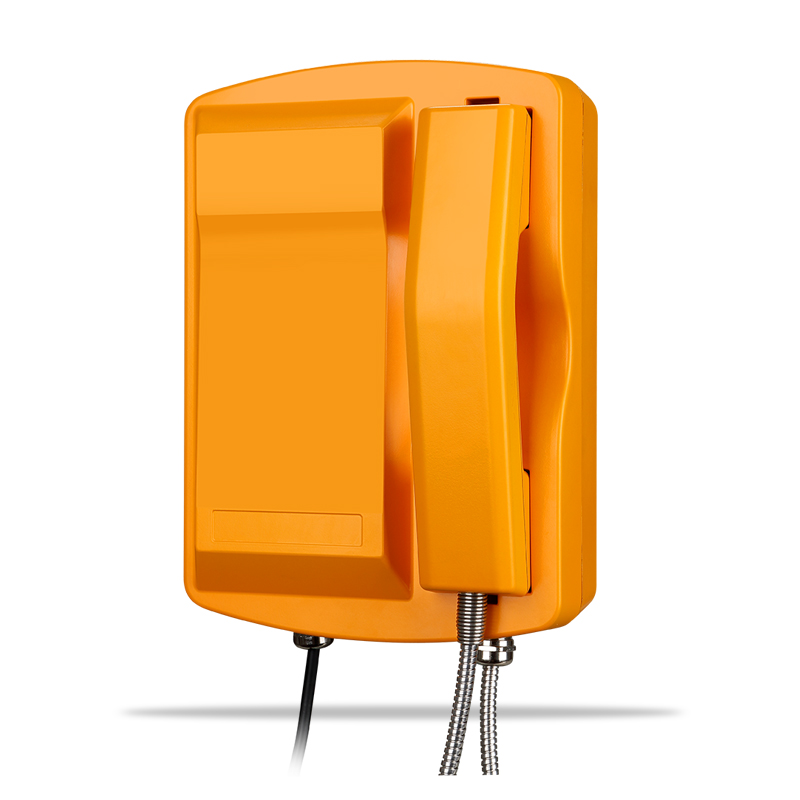 KNSP-18T
Emergency Telephone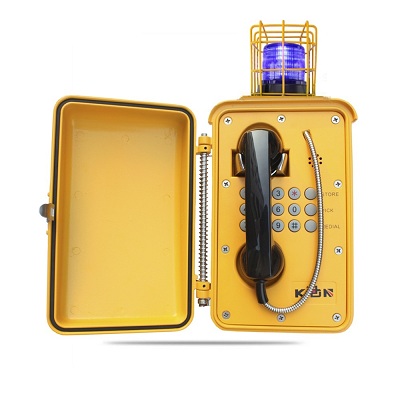 KNSP-01-D8DZ1
Industrial weatherproof telephone
---
==>>>> Product Specification
SPECIFICATION
VoIP SIP2.0 telephone DTMF dialing Audio Codes:G.711, G.722, G723,G.729
MTBF:100000hours MTTR: 2 hours Network:10/100 BaseTX Ethernet, RJ45
Hot-line (maximum length of each number is 16 digits) connectors, Cat5e or better
Communication: Full duplex 2-way hands-free IP Protocols:IPv4, TCP, UDP, RTP, DHCP, SIP
communication 1 x LAN Protocols:Power over
Call Control Signaling:VOIP SIP Info(DTMF), RFC Ethernet(PoE,802.3af).
2833(DTMF) 2 x WLAN(IEEE 802.3af), Network Access
Power:Power over Ethernet, IEEE802.3af, Class 0 Control(IEEE 802.1x),STP(IEEE 802.1d),
Local power, 12VDc,Idle 2W, Max 10W RSTP(IEEE 802.1d-2004)
Auxiliary Contacts: (option) Programming:Non-volatile flash memory
1 Aux Output, dry contac programming and configuration through Web GUI
Contact Ratings. Load: Resistive load Management and Operation:DHCP and static IP,
Rated load:0.3 A at 125 VAC; 1 A at 30 VDC remote automatic software upgrade, centralized
Rated carry current:1A monitoring
Max.switching voltage:125 VAC,60VDC Echo cancellation code:G.167/G.168
Max.switching current:1A

Order information:
| | | |
| --- | --- | --- |
| Model number | Power Supply | Item Number |
| KNSP-13MT-IP-Y_AD | DC12V 1A | SP0130052 |
| KNSP-13MT-IP-Y_P | POE | SP0130022 |
| KNSP-13MT-IP-Y_ADP | DC12V 1A +POE | SP0130092 |
*AD---Adapter UL (Input : AC110~240V , Output : DC12V 1A)