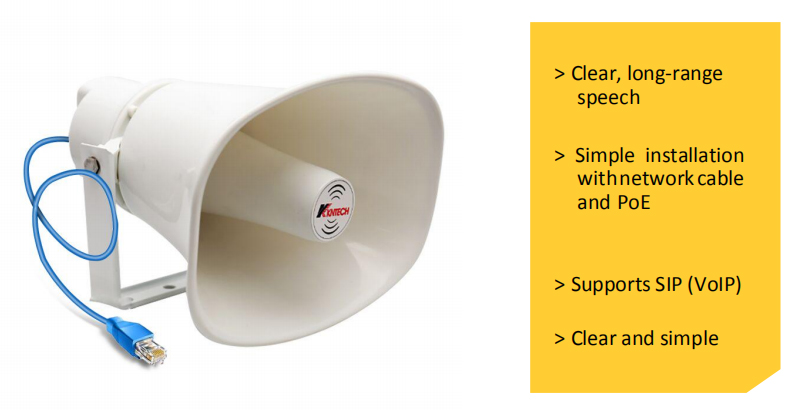 The ip speakers 7w power over ethernet
IP speaker is a wall-mounted speaker. It is used for broadcast zone audio decoding and sound reduction. It has excellent voice reduction and efficient sound transmission. It is especially suitable for outdoor environments, such as sports arenas, parks, exhibitions, etc.
IP speaker and paging system
The ip speaker is a wall-mounted speaker powered by peo, which is easy to install and easy to use. It is often used in paging systems. As a broadcast terminal, it has emergency call and priority broadcast functions. The broadcast terminal implements remote monitoring, remote diagnosis, and broadcasts any terminal and combination. The server software is remotely upgraded. Multiple users can be simultaneously in different locations. Login operation, different users have multiple priority levels and multiple permission settings;
IP speakers characteristics and technical parameters
KNSIPSP-L4 Network IP Speaker may be a simple-to-install outside speaker system that gives clear, long-range speech for remote speaking in video police investigation applications.
In live video monitoring situations, KNSIPSP-L4 enables an operator to remotely address people and deter unwanted activity.
The speaker system may play a pre-recorded audio file once it's manually or mechanically triggered in response to Associate in Nursing alarm event.
KNSIPSP-L4 makes announcements possible from any- where with network connectivity.
It easily integrates Voice over IP (VoIP) telephony systems that use SIP (Session Initiation Protocol).
The outdoor-ready KNSIPSP-L4 is easy to install.
The loudspeaker has a built-in amplifier and supports over over Ethernet (PoE).
It connects on to Associate in Nursing informatics network with one network cable for communication and power.
Despite its low power consumption, KNSIPSP-L4 enables a high sound pressure exceeding 95 dB.
Being a standalone unit, KNSIPSP-L4 is placed anyplace, facultative a versatile, ascendable and efficient approach to system style.
The speaker comes with pre-recorded audio files and permits users to transfer their own audio.
The ip speakers design