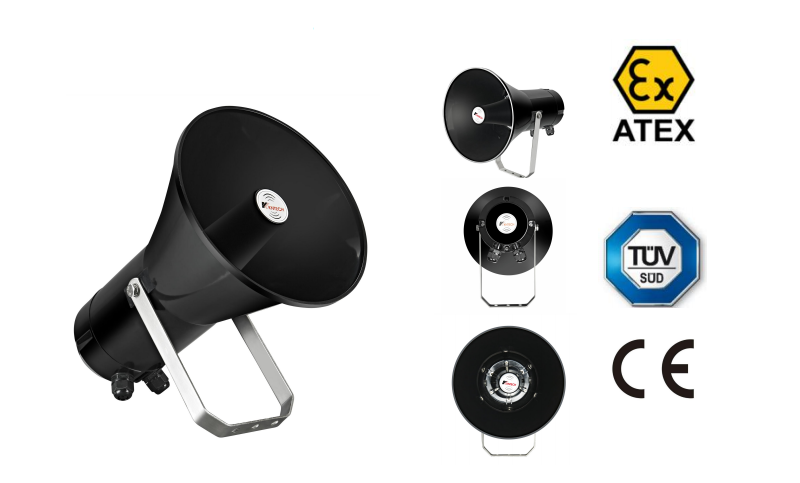 Explosion proof speakers paging 5W
Explosion-proof loudspeaker 360 ° no dead angle loudspeaker, suitable for installation in explosive gas environment place containing Class IIC, T5 temperature group, used for live broadcasting and sound reinforcement.The speaker is used in conjunction with various power amplifier devices, and is used together in the paging intecom system, with a call alarm function.Explosion-proof loudspeaker is an outdoor loudspeaker specially used in hazardous areas. It can be used in an explosive atmosphere or in an explosive environment. It is often used in offshore paga systems, natural gas and oil fields, and can help you build a safe paging system.
All explosion-proof speakers of kntech have passed atex certification
ATEX, taken from the French abbreviation of "ATmospheres EXplosibles", means "explosive environment".
The ATEX Directive requires the design and manufacture of explosion-proof equipment and protection systems to reduce accidents and limit serious explosions. Applies to:
(1) The new "equipment" is used for electrical components, instruments and machinery in explosive atmospheres.
(2) Provide protection and control systems with unavoidable explosions and other explosive atmosphere explosion vents, suppression systems, etc.
The ATEX directive was cited in the laws of EU member states in March 1996, and ATEX has been enforced since July 1, 2003. All products put on the market and put into use for potentially explosive atmospheres must comply with the ATEX manufacturer's directives (excluding products other than those specified in the directives).
What environment is the explosion-proof speaker suitable for?
The professional explosion-proof horn meets the certification requirements of the explosion-proof certification ATEX, which is very suitable for explosive environments and suitable for use in flammable gas environments. Professional-level explosion-proof speakers meet the requirements of industrial outdoor use, and the waterproof level reaches ip66. It can be used normally at an ambient temperature of -40 degrees Celsius to +55 degrees Celsius. II 2GD Ex db eb mb IIC T5 Gb; II 2D Ex tb IIIC T100℃ Db.
What areas need to use explosion-proof speakers?
The application field of explosion-proof speakers is very wide. In general, explosion-proof speakers are mainly used in the following places:
1. Workshops that easily produce dangerous gases (laboratories, chemical plants, natural gas sites)
2. Workshops with a lot of dust (clean workshops, coal mines, chemical plants)
3. Workshops with dangerous liquids (petrochemical industry)
4. Workshops in other flammable and explosive industries such as papermaking and textiles
The explosion proof speaker horn feature
1. Explosion proof Speaker design and certified by TUV ATEX standard.
2. Material/Colour: Anti-static Polyamide/Black
3. Waterproof rating IP66 dust proof IP66.
4. Service temperature range from -40 ℃ to +55℃.
5. For 360° lossless broadcast
6. fixed resistance KNLB-Ex5 without transformer.
7. For use public address and paging application
8. Application: Products are widely used in petroleum, metallurgy, chemical industry, sea oil, nuclear power, shipbuilding, tunnels and other projects requiring explosion-proof grade Speaker.
The explosion proof speaker atex paging type and marking
Frequency Response @ /1W/1m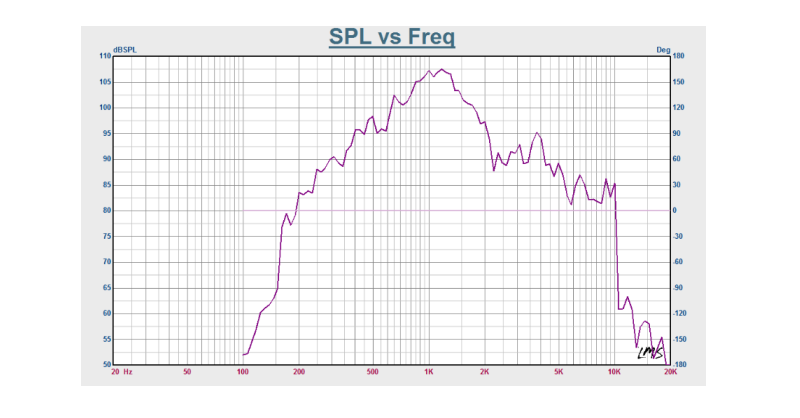 The size ahout it
The explosion proof speaker installation dimension drawing
Packing
Unit size: 250(Ø)*352(L)mm
Unit G W: 3.7kg
1 pcs in a inside box. Box size: 270x270x390 cm G.W: 3.7KG
2pcs in a CTN box. CTN box size: 570x 290x420 cm G.W:7.8KG