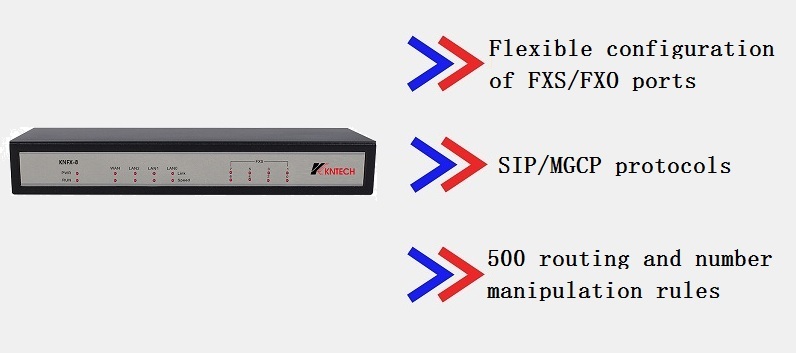 Voip Gateways KNFX-8
Features
*Flexible configuration of FXS/FXO ports
*SIP/MGCP protocols
*500 routing and number manipulation rules
*Support Smart Fax over IP (SFoIP)
*PSTN failover
*TLS/SRTP
*Auto provisioning
*Remote access via New Rock Cloud (US: YoubiquITy)
*Management with New Rock or third-party EMS (TR-069, SNMP)
*Interoperability with popular SIP servers, such as Cisco CallManager/CUCM, Broadsoft, Microsoft Skype for Business (Lync), Huawei IMS, VoS, FreeSWITCH and Asterisk/Elastix
*Class I lightning protection
Developed for small businesses, SOHO and residential IP telephony applications, the KNFX-8 gateway is integrated VoIP devices that provide reliable and cost efficient access methods flexible for deploying converged communication solutions for network operators and enterprises as well.
KNFX-8 is designed as compact units with 2 or 8 FXS/FXO ports, 1 WAN port, and 1 PC port, which allow users to apply them as N-to-1 systems capable of providing versatile solutions by connecting analog phone, fax and POS machine, IP telephony and PSTN.
Comprehensive Feature Set with Intelligent Engine
As intelligent gateways running on embedded Linux operating system, KNFX-8 is compatible with many highlighted features such as call forward, call transfer, 3-way conference, caller ID, DND, color ringback, forking, automatic routing, digitmap, PSTN failover, and much more to provide a complete and highly reliable VoIP solution applicable to most scenarios.
High Reliability
The hardware design of the KNFX-8, from architecture to component selection, take full consideration of improving their reliability. In addition, with high availability featuring primary-standby, active-standby and load balance as well as PSTN failover designed to handle the failure of the SIP proxy servers, power supply and network, the users are provided with carrier class reliability with minimized potential downtime
Robust Protection against Intrusions
KNFX-8 provide rich set of features to support perimeter protection against malicious intrusions, such as brute force logins and SIP attacks, ensuring a high level of security in your IP telephony environment.
Remote Management and NAT Traversal
The KNFX-8 include the New Rock Cloud client, providing easy access with NAT traversal to endpoint devices and value-added applications for remote, real-time monitoring, maintenance, software upgrades, troubleshooting, data analysis, alarm notification, remote and packet
Hardware
| | |
| --- | --- |
| CPU | 700 MHz |
| RAM | 128 MB |
| Flash | 32 MB |
| H×W×D (1U) | 35 × 228 × 135.5 mm |
| Weight (net) | 0.825 kg |
| Power | 12VDC/1.5V |
| Power consumption | 12 W |
| Mounting | Desktop |
| Operating | Temperature: 0 to 40°C Humidity: 10 to 90% RH (non-condensing) |
| Storage | Temperature: -40 to 70°C Humidity: 5 to 90% RH (non-condensing) |