Access Control system of subway entrance guard
Advance SIP technology
TR069 network management system
Integrate system of telephone system, intercom system, and public address system
Fully redundancy philosophy according to customer requirement
High reliability
Simplicity of operator
Immunity to electromagnetic interference
Built-in recording system
Interface to control system, CCTV system, radio system, etc.
Online continual self-checking and diagnostic
Maintenance-free system
KNTECH KNPA-7 system is an IP-based communication system which combine telephone system, intercom system, and public address system into one system. The system consists of sever, network management software, and various telephone terminals.
The system provides communication functions including,
- Telephone function including dialing call, conference call, monitoring, cut-in, recording, etc.
- Intercom function including push-to-talk, selective single call, group call, general call, etc.
- Public address function including zone call, all call, alarming, emergency call, priority, etc.
The system provides interfaces to other system such as control system, fire system, CCTV system, etc., meanwhile, the SIP board can provide remote access and remote control function
The network management system scans every connected telephone terminal on setting time and report the status such as handset, dialing keypad, hook of each telephone terminal.
It's possible to realize system redundancy by means of hot-standby component to any module such as sever, control panel, amplifier, etc..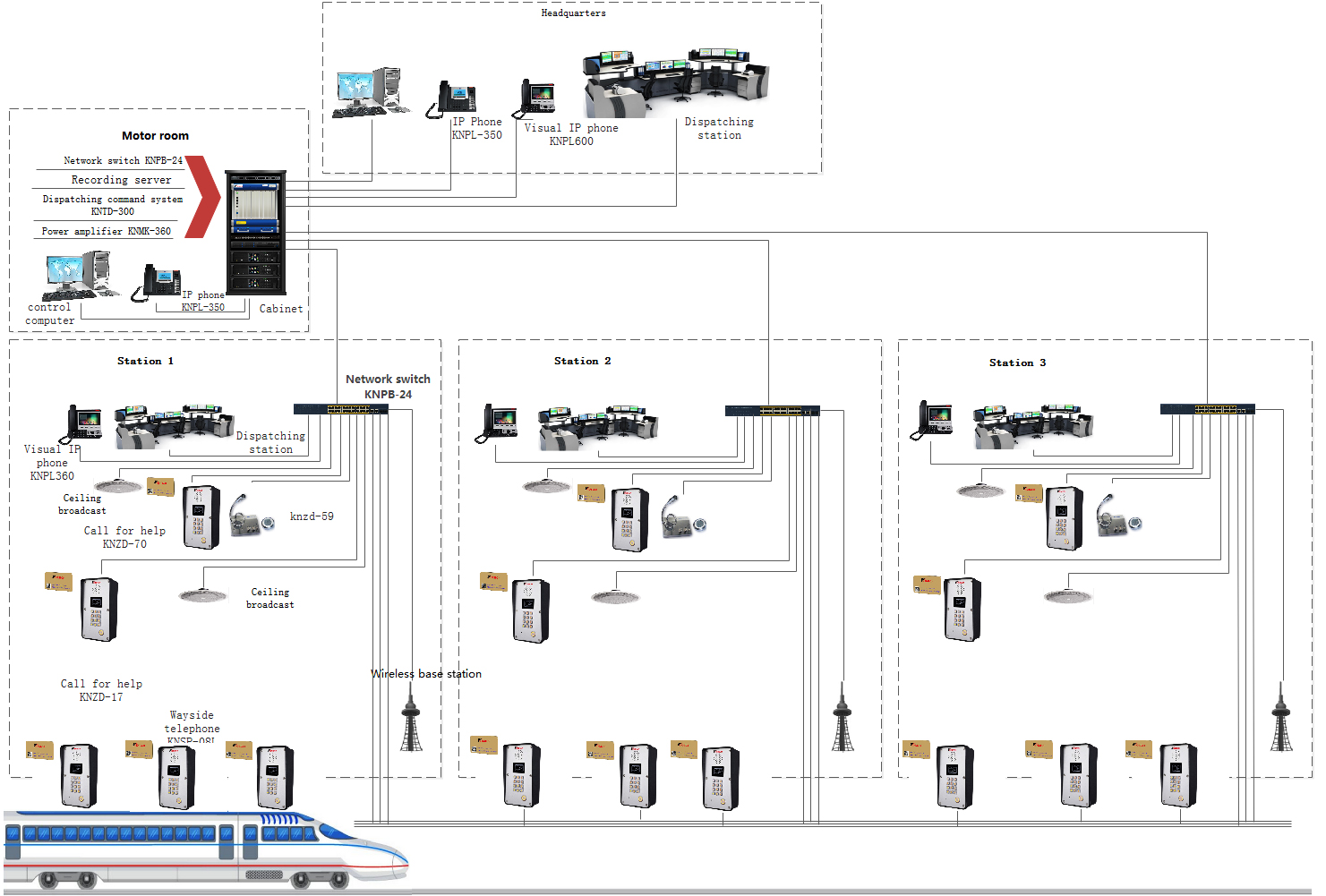 The KNTD-300 IP PBX appliance is designed to bring leading edge voice, video, data, and obility features to enterprises, small and medium businesses, retail and residential environments in an easy-to-manage fashion. This enterprise-grade on premise IP PBX supports offers scalability by supporting up to 300 users. This secure and reliable IP PBX delivers unifed communication features at an unprecedented price point without any licensing fees, costs-per-feature, or recurring fees.
International standard SIP2.0 protocol
Stand-alone support up to 300 extension users
Supports advanced functions and applications such as IVR switchboard, multiple conference rooms, broadcast systems, scheduled switchboards, recordings, call queues and more
Supports IMS / SIP relay, FXO analog trunk hybrid access, compatible third party GSM / T1 / E1 / BRI trunk access
Supports automatic configuration management of various SIP terminals (IP phones, IAD gateways, video telephones, SIP cameras, etc.)
Highly compatible with third-party SIP 2wproducts (IMS / Softswitch cloud platform, IP telephony, voice gateways, IP access control systems, etc.)
Using carrier-class lightning protection, over-current, over-voltage protection design
Telephone terminals
* Industrial standard design
* Supper good sound clarity during conversation
*Support standard Session Initiation Protocol(SIP), RFC 3261
*Remote software upgrade, configuration and monitoring
*Power over Ethernet(PoE,802.3af), local 12V DC
*IP66 vandal resistant marine grade stainless steel faceplate
*Echo cancellation
Model

KNZD-059

KNZD-051

Construction

Stainless steel 304

Stainless steel 304

Dimensions(W*H*D)

320×205×120mm

230*126*76.5mm

Weight

7.0 kg

2.0kg

OperatingTemperature

-40°F to +158°F/ -40℃ to +70℃

-40°F to +158°F/ -40℃ to +70℃

Relative Humidity

Up to 95% non-condensing

Up to 95% non-condensing

Protection

IP56, vandal-resistant and water-resistant design

IP56, vandal-resistant and water-resistant design

Communication

Full duplex 2-way hands-free communication

Full duplex 2-way hands-free communication

Call Control Signaling

VOIP SIP Info(DTMF), RFC 2833(DTMF)

VOIP SIP Info(DTMF), RFC 2833(DTMF)

Audio Codes

G.711, G.722, G.729

G.711, G.722, G.729

Power

Power over Ethernet, IEEE802.3af,

Class 0 Local power,

12VDc,Idle 1.3W, Max 9W

Power over Ethernet, IEEE802.3af,


(Rated Power:50W )

AuxiliaryContacts

1 Aux Output, dry contact Contact Ratings

Load: Resistive load

Rated load:0.3 A at 125 VAC;

1 A at 30 VDC Rated carry current:1A Max.switching

voltage:125 VAC,60VDC Max.switching current:1A

1 Aux Output, dry contact Contact Ratings Load: Resistive load Rated

load:0.3 A at 125 VAC;

1 A at 30 VDC Rated carry current:1A

Max.switching voltage:125 VAC,60VDC Max.switching current:1A

Network

10/100 BaseTX Ethernet, RJ45 connectors,

Cat5e or better

10/100 BaseTX Ethernet, RJ45 connectors, Cat5e or better

IP Protocols

IPv4, TCP, UDP, TFTP, RTP, RTCP, DHCP, SIP

IPv4, , , ;TCP, UDP, TFTP, RTP, RTCP, DHCP, SIP

Programming

Non-volatile flash memory programming and

configuration through Web GUI

Non-volatile flash memory programming and configuration through Web GUI

Managementand Operation

DHCP and static IP, remote automatic software upgrade,

centralized monitoring, status LED

DHCP and static IP, remote automatic software upgrade, centralized

monitoring, status LED

Echo cancellation code

G.167/G.168

G.167/G.168
RFID Specifications
RFID card of KNZD-51
There are 3 way to opern the door
1) local password
2) Remote DTMF signal to open the door
3) RFID card open the door
RFID card reader specification:
* Material : plastic, PVC
* Standard : EM-40xx
* Reader Distance : 5-12 mm
* Compatible with all ID door access devices or ID reader
* Contactless transmission of data, Only can be read, can't be rewritten, or used to copy other RFID cards
* 125Khz, RFID type only, compatible with the RFID 125Khz card reader