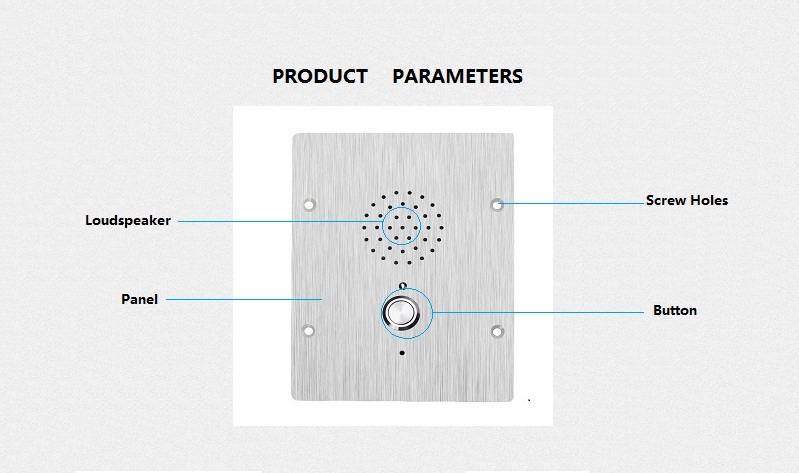 Elevator emergency phone will help you
Based on the need for emergency assistance, the elevator phone is required to have the features of multi-party call and automatic dialing. At the same time, considering the complex environment in the elevator car, the phone itself must also have features such as vandal resistance, anti-knock and anti-interference.
Are emergency phone required in elevator?
Yes, we need. The elevator is in a closed environment. When an accident occurs, the mobile phone cannot be used to seek help from the outside world. All elevator telephone installations comply with ADA, ASME, and IBC requirements.
Does an elevator require a dedicated phone line?
No, using voip network communication, installation is simple and convenient.
What does the emergency button on an elevator do?
There are usually two types of elevator emergency buttons. The first is an emergency stop. After pressing the button switch / keyswitch, the elevator will stop and will not start. Press the button again to run the elevator normally. Second, as an emergency communication, press the button to ask the staff for help.
Do elevators have phone numbers?
Elevator phones are usually assigned phone number, but for security reasons it will not be released to the outside world.
DESCRIPTION ITEM NO.ZD0110012
1. Stainless steel 304 body for easy Installation.
2. Waterproof rating IP55 dust proof.
3. Full keypad with memory, 10 button programmable telephone.
4. Weather resistant to IP55 standard, service temperature range from -30 degree to +75 degree.
5. Lightening protection to ITU-T recommendation K.21.
6. Heavy Duty handset with hearing Aid compatible receiver, Noise canceling microphone.
7. Handset with industrial strong armored cord .
8. Metal keypad keep waterproof and dusty proof.
9.Phone integrity wiring to enable the telephone system to check if the telephone unit is still
Operational.(If PABX have this available we can provide this function).
10. Optional 7 minute time out to release the line if the handset is left off hook. This function upon buyer's requirement).
11. The housing covered with a layer of reflective label for easy identification at night.Optional
12. Application: Tunnel, metro, railway, LRT, speedway, marine, ship,offshore, mine, power plant, bridge etc.
INSTALLATIONC
ERTIFICATION
EN55022: emissions EN55024: immunity
Ingress Protection: GB4208-93 IP66 FCC ITU-T Recommendations K21
EMC: EN50121(Railway application-Electromagnetic Compatibility)
PACKAGING

Unit size:170*130*60mm Unit: N.W:0.65KG
1pcs packing box size: 200*140*100mm Unit N.W:0.65KG Unit G.W:1KG
12pcs in 1 outer Carton box: size: 500*360*420mm N.W:7.8KG G.W:13.1KG