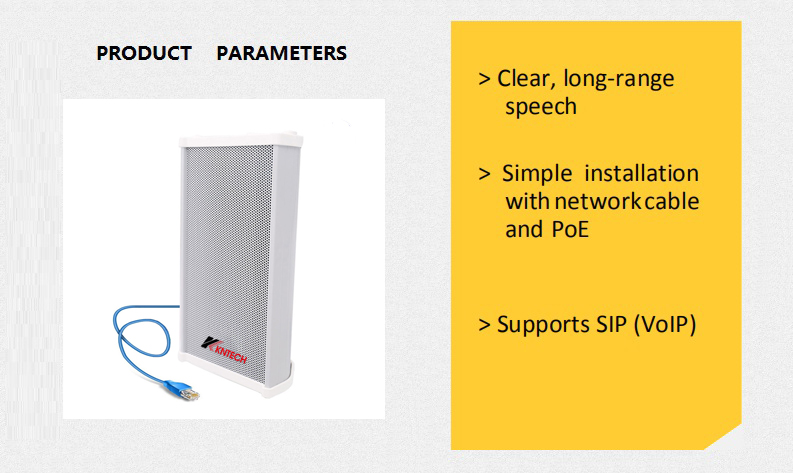 Feature
In live video monitoring situations, KNSIPSP-L7‐7W
en- ables an operator to remotely address people and de- ter unwanted activity.
The loudspeaker can also play a pre-recorded audio file when it is manually or automat- ically triggered in response to an alarm event.
KNSIPSP-L7‐7W makes announcements possible from any- where with network connectivity. It easily integrates Voice over IP (VoIP) telephony systems that use SIP (Session Initiation Protocol).
The outdoor-ready KNSIPSP-L7‐7W is easy to install.The loudspeaker has a built-in amplifier and supports Power over Ethernet (PoE).
It connects directly to an IP network with one network cable for communication and power.
Despite its low power consumption, KNSIPSP-L7‐7W en- ables a high sound pressure exceeding 95 dB. Being a standalone unit, KNSIPSP-L7‐7W can be placed anywhere, enabling a flexible, scalable and costeffective approach to system design.
The sip speaker comes with pre-recorded audio files andallows usersto upload their own audio.
installation
Outdoor horn speaker installation,Simple installation allows you to see it.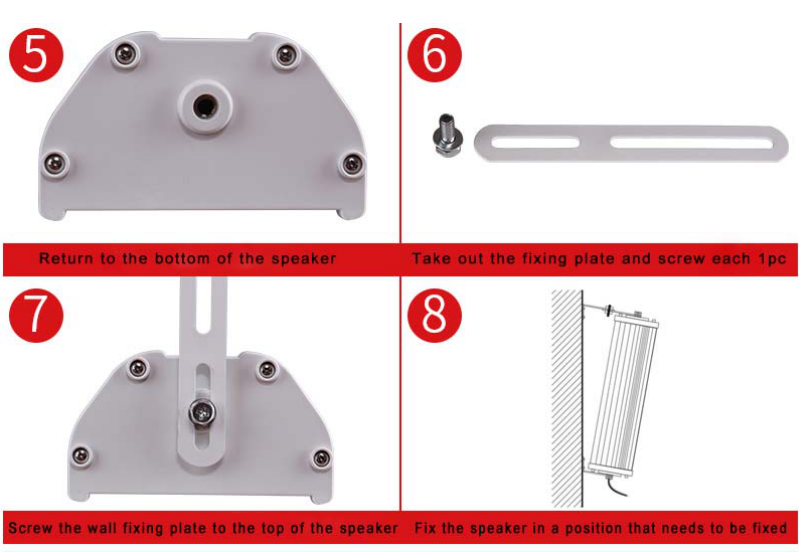 ---
==>>>> Product Specification
Models
KNSIPSP-L7‐7W
Audio
Audio streaming
One‐way/ (Differential output)
Audio compression
G.711 PCM 8 kHz, G.726 ADPCM 8 kHz
Audio input/output
Built‐inmicrophone (can be disabledmechanically)
Built-in microphone specification
50 Hz ‐ 16 kHz
Speaker Approvals
Max sound pressure level
>95 dB
Frequency response
280 Hz ‐ 12.5 kHz
Coverage pattern
70° horizontal by 100° vertical (at 2 kHz)
Amplifier
Amplifier description
Built‐in 7 W Class D amplifier
Supported protocols
IPv4/v6, HTTP, SIP, NTP, TCP, UDP,DHCP
General
Casing
Impact‐resistant aluminum, IP55‐ and NEMA 4X‐rated. For
repainting instructions and impact on warranty, contact
your partner
Memory
256 MB RAM, 256 MB Flash
Power Supply
POE
Connection
RJ45
Operating conditions
‐20°C to 50 °C (‐4 °F to 122 °F) Humidity 10–100% RH (condensing)
Approvals
Dimension
150 x 270 x 80 mm