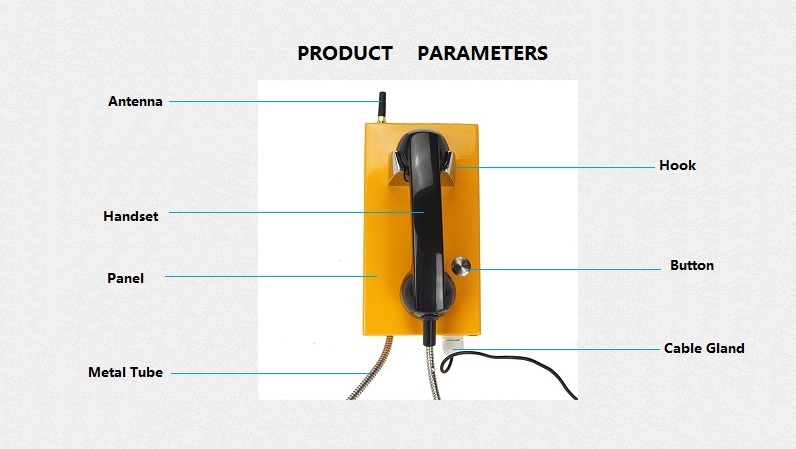 GSM Telephone KNZD-14GSM
We specializing in the production and sales of stainless steel calling system Auto-dial phone water proof telephone for prison use with CE certification.This is a gsm telephone with a metal case. You can install the phone indoors or outdoors. This is a freely mobile fixed phone that can be placed outdoors and has a tamper-proof function.You must use 3g or 4g sim card to communicate.


What is GSM?
GSM full name: Global System for Mobile Communications, Chinese is a global mobile communication system, commonly known as "Global Access", is a mobile communication technology standard originated in Europe, is the second generation of mobile communication technology, its development purpose is to make the world A mobile phone network standard can be used together to allow users to travel around the world with a single mobile phone.
What is the difference between telephone and gsm?
Ordinary analog phones and voip phones need to be installed with a network cable for communication. The gsm telephone only needs a 3G or 4G sim card to communicate. Gsm telephone, no need to install, is a mobile phone that can be moved.
How the GSM works?
1. GSM is a cellular network, which means that the mobile phone is connected to the nearest cell area that it can search. The GSM network operates on a number of different radio frequencies.
2. The GSM network has a total of four different cell sizes: giant cells, micro cells, pico cells and umbrella cells. Coverage varies by environment. A giant cell can be seen as the kind of base station antenna that is mounted on the mast or on the roof of a building. Microcells are those whose antenna height is lower than the average building height and are generally used in urban areas. The picocell is a small cell that covers only a few tens of meters and is mainly used indoors. The umbrella cell is a dead zone for covering a smaller cellular network, filling the signal blank area between cells.
3. The radius of the honeycomb can range from more than 100 meters to tens of kilometers depending on the antenna height, gain and propagation conditions. The longest distance GSM specification actually used supports up to 35 kilometers. There is also the concept of an extended cell, where the cell radius can be doubled or more.
GSM also supports indoor coverage, and the power of the outdoor antenna can be distributed to the indoor antenna distribution system through the power splitter. This is a typical configuration for indoor high-density call requirements, which is common in shopping centers and airports. However, this is not necessary, as indoor coverage can also be achieved by wireless signals crossing the building, but this can improve signal quality and reduce interference and echo.
Main features:
Matching with most of PABX,PBX,PAX and VoIP systems.
1. Main body with whole steel body, solid and temperature bearable. Stainless steel body.(Option)
2. Handset free, with or without keypad can be selectable. Front panel includes with microphone
and speaker.
3. Well treated metal keypad against rust and corrosion.
4. Resume lightning proof protection automatically standard to ITU-T K21.
5. Waterproof rating IP65 both of housing and electronics module.
6. The metal shell is provided with grounding connection device and is absolutely insulated with inner circuit and electric, then has the effect of electromagnetism shield.
7. Support hotline call, can realize ring off automatically if the other side close.
8. The design is super thin and smart. Embed style and hanging style can be chosen.
9. The housing color (UV Protection) and logo can to customer specification.
10. The telephone has passed the certificate of ISO9001: 2000
11. LED status display on panel.
Applications:
As

public telephone

for indoor or outdoor, elevator phone, taxi or bus stands or station,
highway call box. railway,
metro, ATM machines side, tunnel, port, dock, mines, generation facilities….
A good ideal telephone for use in wet or corrosive atmospheres.
CERTIFICATION

EMC: EN50121 (Railway application- Electromagnetic Compatibility)
Ingress Protection: GB4208-93 IP66
ITU-T Recommendations K21