Clean Room Phone KNZD-15
VOIP Clean telephone knzd-15 is the ideal choice for a Clean room environment, with a surface design that allows you to make calls without trapping or discarding particles. The dust-free room phone provides hands-free communication through the existing VoIP network and is suitable for a sterile environment.

Cleanroom telephone adopts the latest technological design of clean and sterile room telephone terminal. Ensure that there is no gap or hole on the surface of the equipment, and there is basically no convex design on the installation surface. Jijie clean telephone adopts imported PE film panel, which can be used directly by connecting with the telephone line without power supply.Water Resistant cleanroom Telephone is a fully electronic cleanroom Telephone, providing a flat surface for operation panel using a flat film. The film is a non-permeable, multilayer chemically inert polyester film, making it waterproof (depending on the installation) up to IP65. The model also has chemical resistance: alcohol, dilute acid, dilute alkali, ester, hydrocarbon, ketone and other cleaners.
DESCRIPTION ITEM
1. Stainless steel 304 body, vandal & tamper-resistant hardware, easy Installation.
2. Waterproof rating IP55 dust proof.
3. Metal keypad keep waterproof and dusty proof.
4. Stainless steel button, double loudspeaker.
5. Lightening protection to ITU-T recommendation K.21.
6. POE power supply or DC12V.
7. Temperature range from -40 degree to +70 degree.
8. Support echo cancellation.
9. Remote software upgrade, configuration and monitoring.
10. Optional 7 minute time out to release the line if the handset is left off hook. This function upon buyer's requirement).
11. Powder coated in UV stabilized polyester finish.
12. The housing covered with a layer of reflective label for easy identification at night.Optional
13. Application: Tunnel, metro, railway, LRT, speedway, marine, ship,offshore, mine, power plant, bridge etc.
INSTALLATION
CERTIFICATION
RCM: AS/NZS CISPR 32 Australian communications:AS/CA S004
Australian Equipment-safety: AS/NZS 60950.1:2015
EMC: EN50121(Railway application-Electromagnetic Compatibility)
PACKAGING

Unit size:250*150*43mm Unit: N.W:1.25KG
1pcs packing box size: 325 *235 *165mm Unit N.W:1.25KG Unit G.W:1.75KG
14pcs in 1 outer Carton box: size: 730*390*340mm N.W:17.5KG G.W:23.7KG
You May Like: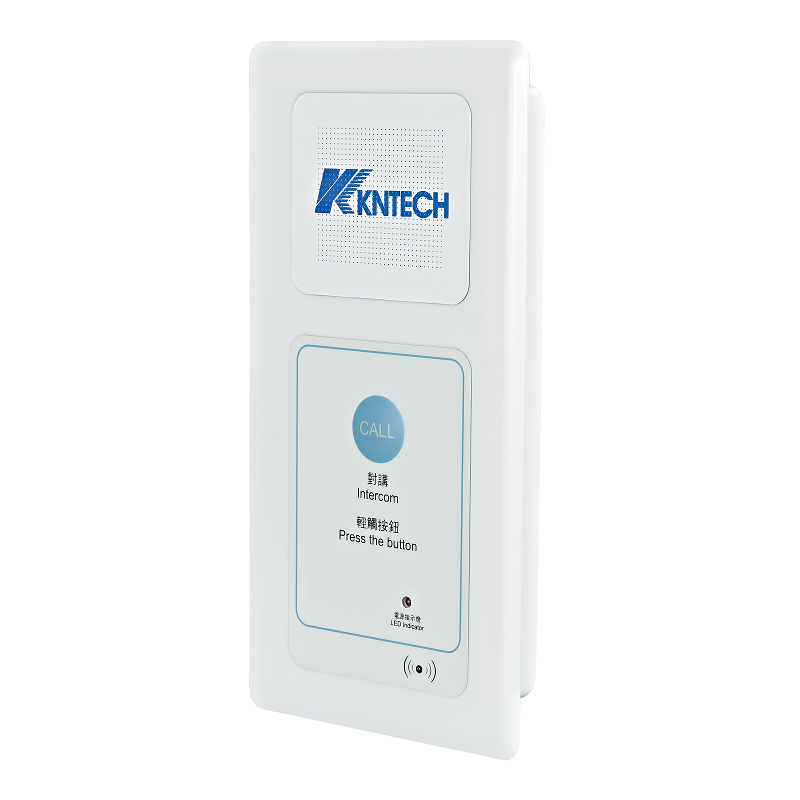 KNZD-63A
Clean room phone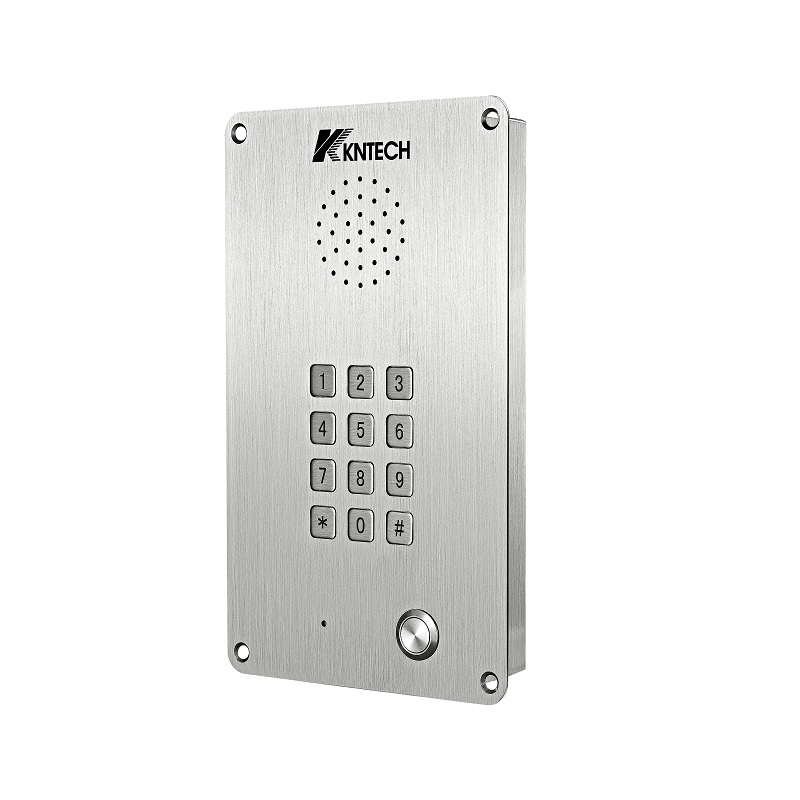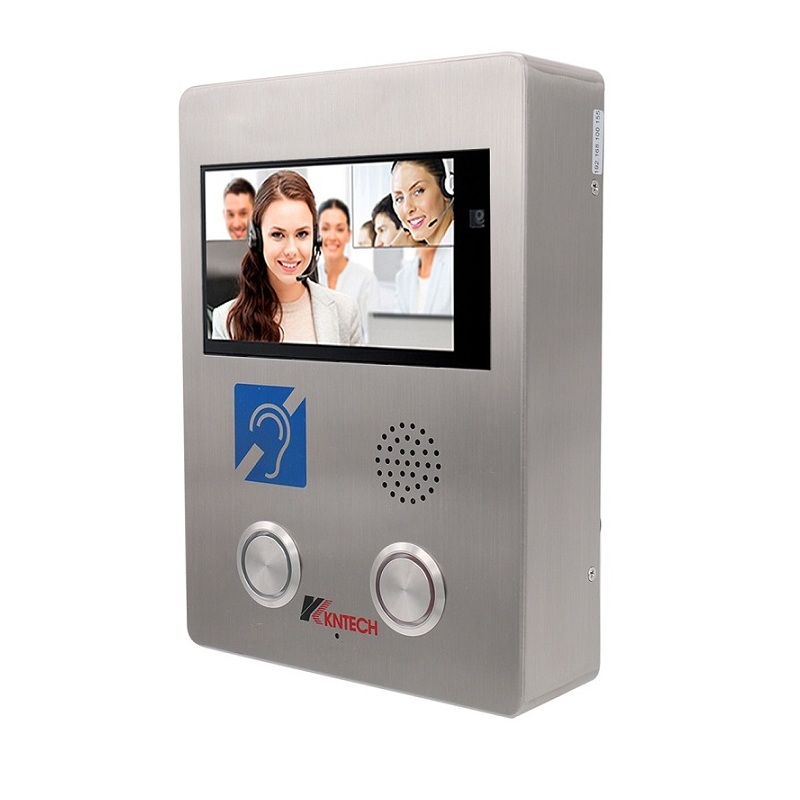 KNZD-60M
Video Intercom System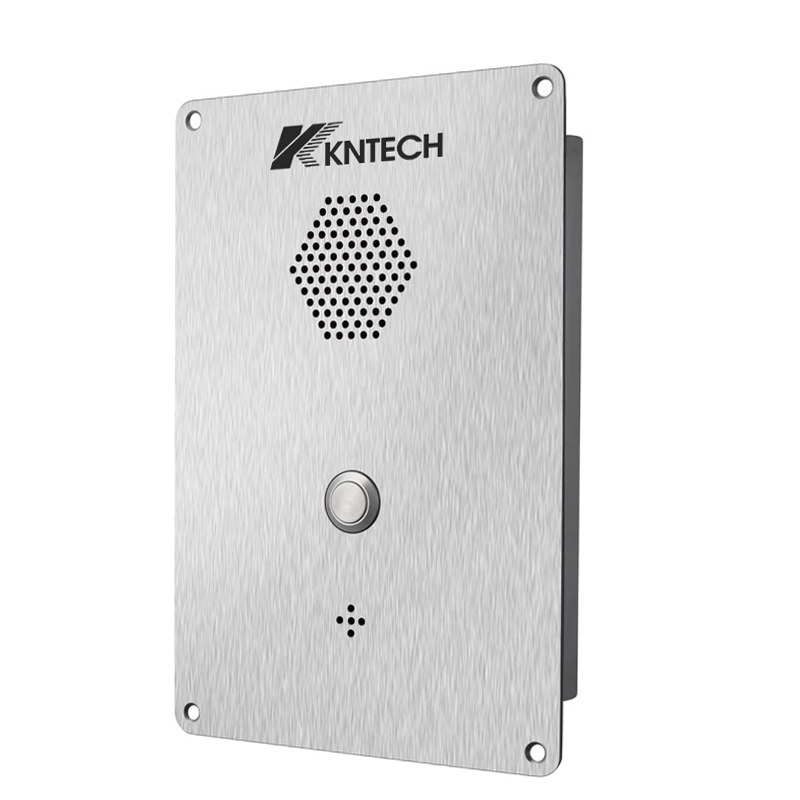 ---
==>>>> Product Specification
Clean room phone specification
VoIP SIP2.0 telephone DTMF dialing Audio Codes:G.711, G.722, G.729
MTBF:100000hours MTTR: 2 hours Network:10/100 BaseTX Ethernet, RJ45
Free dial(maximum length of each number is 16 digits) connectors, Cat5e or better
Communication: Full duplex 2-way hands-free IP Protocols:IPv4, TCP, UDP, TFTP, RTP, RTCP,
communication DHCP, SIP
Call Control Signaling:VOIP SIP Info(DTMF), RFC LAN Protocols:Power over Ethernet(PoE,802.3af),
2833(DTMF) WLAN(IEEE 802.3af), Network Access
Power:Power over Ethernet, IEEE802.3af, Class 0 Control(IEEE 802.1x),STP(IEEE 802.1d),
Local power, 12VDC,Idle 2W, Max 10W RSTP(IEEE 802.1d-2004)
Auxiliary Contacts:1 Aux Output, dry contact Programming:Non-volatile flash memory
Contact Ratings. Load: Resistive load programming and configuration through Web GUI
Rated load:0.3 A at 125 VAC; 1 A at 30 VDC Management and Operation:DHCP and static IP,
Rated carry current:1A remote automatic software upgrade, centralized
Max.switching voltage:125 VAC,60VDC monitoring, status LED
Max.switching current:1A Echo cancellation code:G.167/G.168