16key flat keypad KP7
16 keys compact format IP55 dynamic vandal proof Stainless Steel encryption PINPAD with industrial encryption electronics controller supporting DES/TDES shieded & protected by stainless steel housing, industrial PCB with carbon-on-gold key switch technology with long stroke (2.0mm) with extremely good tactile feeling for fast and accurate data input without any noise, top stainless steel plate with threaded bolts under top stainless steel plate for top panel mounting solution.the phone keypad
Features
Stainless steel fascia and key-tops guard willful destruction, against corrosion, shock, dust, falling raining, splashing, hose-directed water and vandal resistant, operation under hostile environments.
Internet friendly key layout, key-tops are sunk laser-etched in legends and characters via using high quality ink for easy readability, long life to prevent lettering rub-off. Or protrusive engraving available.
The PINPAD in 4 x 4 matrix with Enter, Cancel, Correction, etc. compliance with ISO standard.
16 bytes keys (16 master keys x 4 working keys), it can be self destructive with back-up battery to achieve this function.
The PINPAD can be used as a keypad for numeric entry.
The ATM can instruct PINPAD to exit key entry/supervisory mode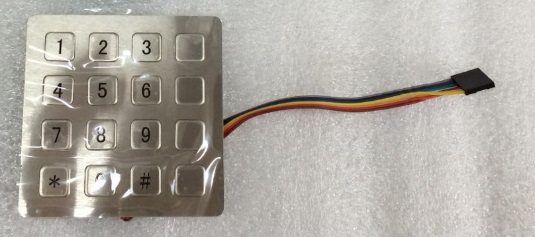 Application:
This encryption PINPAD is mainly targeted for use for unsupervised or semi-supervised positions of varied bank access applications, Bank kiosks, ATM, CDMs etc.
ELECTRICAL DATA:
Switching Material: Carbon-on-Gold.
Power Supply Voltage:+5V DC.
Power consumption:Under 1W for operating condition, 200mA for non-operating condition.
EMC: EN55022(B).
Communication Interface: RS232
Enter PIN: 10 numerical keys and 6 function keys
ENVIRONMENTAL ADAPTABILITY:
Operating temperature: -20°C to +60°C.
Storage temperature:-30 °C to +70°C.
Operating RH: 30~90%.
Atmospheric pressure: 60~106Kpa.
Keypad is watertight while being mounted correctly on ATM
RELIABILITY:
RoHS Compliant, CE and FCC
Protection Level: IP65(front panel)
Vandal resistant IK09
Sensitive data can be well saved while sudden power off.
Sensitive data and program can be erased when being tampered.
Key Lifespan > 10 million actuations.
MTBF >50000H.
MTTR <30min.