KOONTECH KNSP-22 is a type of economical and waterproof, moisture proof dust proof telephone .
It's apply to highway, tunnels, power plants, gas stations, mines, docks, steel companies, large-scale projects for waterproof, Moisture proof, dust proof and other environments which have special requirements. It is very cost-effective products for the owners and construction. It can operate stably at 24V-60V voltage. ringer sound is also higher than the national standard. The telephone can multiple connection to share a same number with other terminals to save a lot of resources for construction units and owners.
Size: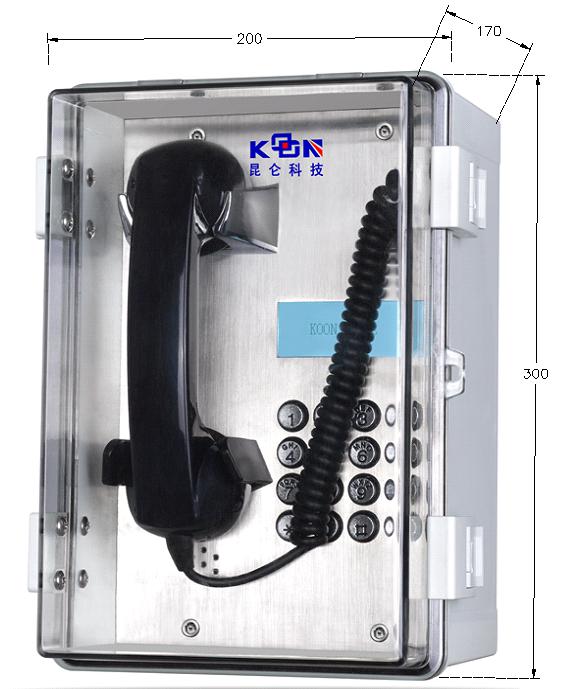 1. KNSP-22 Product Features.
1. Shell: PC material with high strength and elasticity, wide high impact strength, wide service temperature.
2. Hook: stainless steel, using magnetic induction hang up, don't need hook switch, no contact gaps.
3 . Buttons: metal buttons, abrasion-proof and anti aging. (Can be customized back lit keyboard)
4.Display: This model is IP version supports Caller ID or IP address of the display. (Can be customized according to standard GSM CDMA, etc.)
5.Handset: special ABS, / PC synthesis, integrated structure, good sealing, resistance to knock ,twisted pull no deformation, doesn't burst at -35 centigrade.
6. Wire: using Teflon wire, acid and alkali resistance, high temperature, anti-aging, do not catch fire.
7. Waterproof glue : imported waterproof glue, high viscosity, high temperature resistance, high pressure, waterproof life more than 10 years.
8. Transmitter and receiver of handset ,keyboard, buzzer,circuit board ,shell , all accessories use multi-layer waterproof and dust-proof structure. It has three-level waterproof, dust proof functions, the whole rating reach to IP66.
9. Telephone is very stability, strong anti-jamming capability, In line with the national standard GB / T 15279-94.
2. The operation uses
1. The way of pick up/ hang up: handset control : when you pick up handset telephone will put through. When you hang up, the telephone will disconnect.
2. Answer the phone: When a call come in, the phone will ring. Picking up the handset and you can talk each other, After the call to hang back handset.
3. Call: pick up the handset , according to the way of ordinary telephone to dial and talk with each other.
4. Store number: pick up the handset and press the "Save" key, press the number that you want ; Press the Save again . press the "0-9" one of button to store the number as an address, at last hang up the phone . (This feature needs 16 keyboard support)
5. Extract number: Pick up the handset, press the "Extract" button, press "0-9" one of button to dial the memory number. (This feature needs 16 keyboard support)

3. The main technical parameters
1. It's suitable for a variety of feed voltage PBX switches and dispatch and scheduling of the switching system 24-48V.
2. Temperature: -35 ℃ ~ 75 ℃,Relative Humidity: 10% to 95% Atmospheric pressure: 86 ~ 106 Kpa, Ambient noise: ≤70dB (A).
3. Ringing level: ≥75dB.
4. When the user is 3KM line signal level standard frequency: low frequency group: 697-941Hz high frequency group: 1209-1477Hz
Frequency Offset: less than ± 1.5% of the combined signal of high-frequency level difference: 2 ± 1dB by the total harmonic distortion caused by intermodulation at least lower than the basic level of 20dB.
5. Call transfer indicators: SLR≤12, RLR≤-1, STMR≥10, output impedance: 600Ω.

6. 12 groups with superior storage memory dialing numbers (each number up to 16).
7. 0.8mm cable core wire, subscriber line can be 7 KM
8. Can operate stably at 24 V-60V of voltage. Ringer sound is also higher than the national standard,The telephone can join together and use a same number so save a lot of resources for construction units and owners. . Please contact customer service person and engineers.