NEW DELHI: Cabinet today approved the construction of first phase of the Metro Rail Project in Lucknow at an estimated cost of Rs 6,928 crore.
Chaired by Prime Minister Narendra Modi, the Cabinet approved the Lucknow Metro Rail Project Phase - 1A covering 22.878 km distance between Chowdhary Charan Singh Airport and Munshi Pulia with 22 stations.
The cost of the project will be Rs 6,928 crore which will be supported by the Centre with Rs 1,300 crore in the form of equity and subordinate debt, according to a release.
The project will be implemented by Lucknow Metro Rail Corporation (LMRC) which will be reconstituted into a 50:50 jointly owned company of the Centre and Uttar Pradesh government.
Out of the total route length of 22.878 km, elevated route will be 19.438 km while underground route length will be 3.440 km with total 19 elevated and three underground metro stations. The metro train will ply between Chowdhary Charan Singh Airport and Munshi Pulia.
The project will come under the legal framework of the Metro Railways (Construction of Works) Act, 1978; the Metro Railways (Operation and Maintenance) Act, 2002; and the Railways Act, 1989, as amended from time to time.
Lucknow has been experiencing mounting pressure on its transport infrastructure and has witnessed tremendous growth in the last two decades. As per census of India 2011, the population of Lucknow Urban Agglomeration is 29 lakhs. The population of Lucknow Metropolitan Area is over 50 lakhs.
The state capital has 14.24 lakh vehicles, 80 per cent of them being two wheelers and 14 per cent cars. The city is witnessing an annual growth of 8.35 percent in vehicular population


| | |
| --- | --- |
| Product Name: | Koontech Emergency Telephones |
| Product model: | Koontech KNZD-31 |
| size: | 280*225*55 mm |
| material: | SUS304 OR MATEL BODY |
| PDF: | |
introduction:
INTRODUCTION
INTRODUCTION
AUTO-DIAL TELEPHONE SYSTEM

Characteristics:
1. Autodial when phone is picked up.
2 .The number to dial-up can be optionally set or changed by requirement
3. Tally with the full function of the common telephone;
4. Wearable, high reliability, waterproof, moisture proof.
5. Be applicable for attended and unattended condition

Application Examples:
1.It is applicable for speedway system to dial-up help call for emergency;
2.It is applicable for railway or metro system to dialup the section telephone;
3.It is applicable for customers to dialup complaining or service telephone of ATM machines or other service stations;

Functions:
It is applicable for customers to dialup the hotline phone
2.It can be automatically dialup. The phone of the customer service center will be put through automatically for you in five seconds after you pick up handset without pressing any key;
Press"8"key,Guoxin Security Commission Center, the number is set as
Press"9"key, Watch Room, the number is set as
Press"0"key, Customer service center, the number is set as Note: We can devise and make products according to customer's demand besides the products listed in here.
Packaging specifications
Machine size:350 *240 *110( mm )
Carton size:439 *277*191( mm )
Packaging material: pearl cotton, carton
Gross weight:3.8KG
Net weight:3.2KG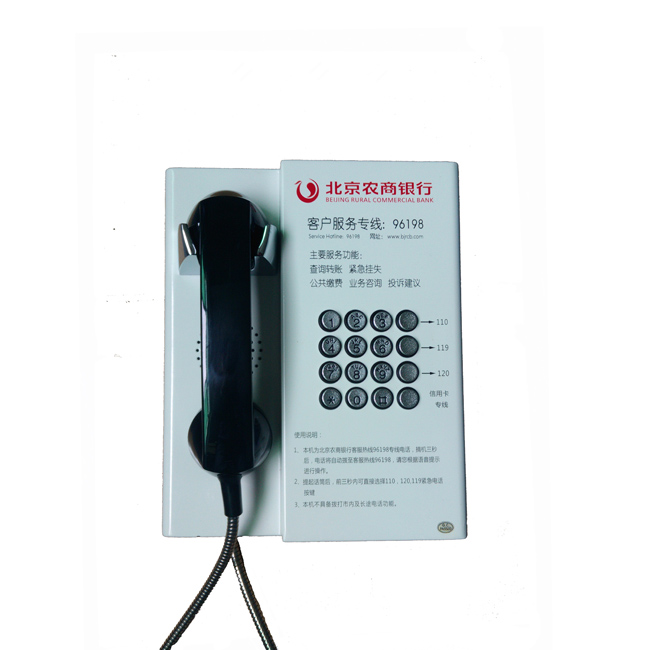 Autodial telephone,handset emergency telephone, handfree emergency telephone, handset free emergency telephone,
Auto dial emergency phone, Metal emergncy telephone,sos telephone,help telephone,GSM telephone,help point,help phone, outdoor emergency telephone,Gaitronics,emergency call point,metal help telephone, camera phonepublic telephone,loud speaking phone,bank service telephone, elevator phone,window intercome,LCD telephone,hotline phone,talk a phone,cleanroom telephone,viking,weatherproof phone,SIP phone,voip phone, call point outdoor weatherproof phone,solar energy help phone,tunnel telephone,2G,3G telephone,trackside telephone