Analogue/IP/VOIP version optional.
Characteristics:
1. Main body with whole aluminum alloy with stainless steel front plate.
2. Handset free, double loudspeaker, with indicator display while speaking.
3. Lightening protection to ITU-T K.21
4. One memory keypad. Illuminated buttons optional
5. Adjustable 7 minute timeout optional
6. Waterproof grade is IP65
7. Support hotline call, can realize ring off automatically by the receiver
8. The design is super thin and smart. Embed style and hanging style can be chosen.
9. Size:according to customer's request.
Packaging specifications
Machine size:250 *150 *50( mm )
Carton size:325 *235 *175( mm )
Packaging material: pearl cotton, carton
Gross weight:1.4KG
Net weight:1.2KG
VOIC OVER IP- SIP (Optional)
Connection type: RJ45 Socket inside sealed enclosure
Power supply: External 24V dc
Call set-up Protocol: Session Initiation Protocol(SIP)
Configuration: DHCP or STATIC IP address provisioning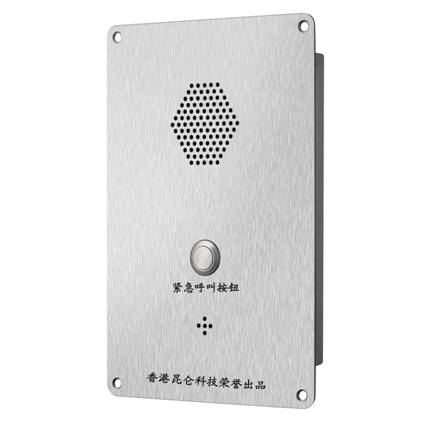 Autodial telephone,handset emergency telephone, handfree emergency telephone, handset free emergency telephone,
Auto dial emergency phone, Metal emergncy telephone,sos telephone,help telephone,GSM telephone,help point,help phone, outdoor emergency telephone,Gaitronics,emergency call point,metal help telephone, camera phonepublic telephone,loud speaking phone,bank service telephone, elevator phone,window intercome,LCD telephone,hotline phone,talk a phone,cleanroom telephone,viking,weatherproof phone,SIP phone,voip phone, call point outdoor weatherproof phone,solar energy help phone,tunnel telephone,2G,3G telephone,trackside telephone,elevator phone, emergency service telephone, help hotline telephone, sos telephone