Hongkong Koon Teccnology Ltd has cooperated a number of projects with Huaneng, Datang, China Power Investment, Huadian, China State Power, CGNPC, China Resources Power,this project adopt KNSP-08L sound and light PA scheduling system and KNZD-41 fire calls broadcasting System of Koon.
The products of Koon is recognized with durable, high stability and low failure rate in the industry, we are the only one telephone company owns offshore platforms brands.
Koon telephone system has received IEC ATEX and TUV, SGS CE FCC CCC and ISO900 certification , our market share of the power system has always been the first in the industry, especially nuclear power project. We have Squeeze Rolla France and Germany FHF out the Chinese market
http://www.koontech.com/cn/o--338.html
| | |
| --- | --- |
| Product Name: | Koontech Fire Telephone |
| Product model: | Koontech KNZD-41 |
| size: | 70*43*30cm |
| material: | SUS304 |
| PDF: | |
introduction:
Fire alrm telephone mainly for subway,tunnel,large construction projects such as design enviroment with noise. The machince with high-grade beautifulgood waterproof and dustproof performance.Stainless steel button high wear-resisting, main chip adopts industrial-grade ATML microcontroller.Integrated telephone systerms and fire alarm system funcation,practical. This product in addition to the ordinary phone function has the following functions.

Loudspeaker and lights to remind function:
When the noise more than 90dbs,the ordinary telephone ring often cannot let the staff heard, and lead to production scheduling command cannot be communicated in a timely way, causing economic lossed. KNZD-41 can amplify the ringing sound with light reminds, broadcast through the speaker. To count the ring at the same time, the phone automatically pick-on after it ringing several times (factory set to 3-5times), the caller can use the broadcast to call. The sound will be sent to nearby worker and maintenance personnel by the native built-in hi-fi loudspeaker broadcast.

The product with built-in back-up power to ensure worl normally after power outage for two hours. When the power supply back to normally will chage for the battery. To ensure that each power backup power supply of storage. The bottom of the phone has a small exhaust fan, extend the service life of regenrative power work mainly guarantee the air circultaion inside the case.

KNZD-41 phone have good stability, strong anti-interference ability, the handset use the moving coil, electret construct, eliminate background noise, the phone rang the bell with green led lights flashing at the same time.
During the phone in standby, 24V power supply automatically shut down,and only under the fluid flow trigger turned on the power,make the machine work more safety and reliable.

Fire specification:
fire alarm system can be used with core controller,centralized management,easy maintenance,long reansmission distance,strong expansibility, a board with two loops, a circuit can pick up 198points,also can be used alone.
a. Fire alarm lamp trigger with optional:manual alarm(break the glass of fire box)and automatic detection alarm,automatioc alarm mainly through the smoke sensore,gas sensor and flame sensor to execute.
b. During the calling,press the blue button,warning light mutes,continue to twinkle.
c. Press the blue button again,the alarm lamp continue flashing horns.
d. The built-in positioning module and control module,in order to control remote operation fire phone.
e. Sound of alarm≥120dB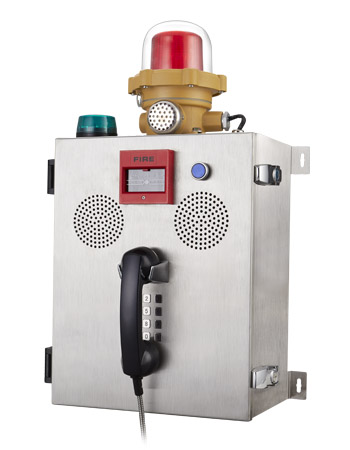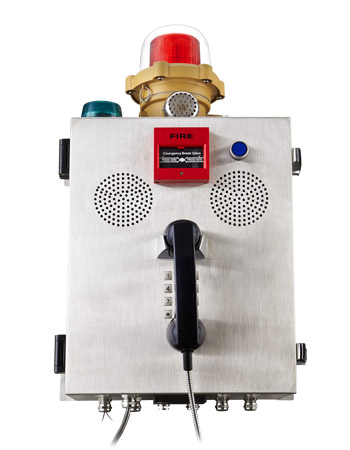 Autodial telephone,handset emergency telephone, handfree emergency telephone, handset free emergency telephone,Auto dial emergency phone, Metal emergncy telephone,sos telephone,help telephone,GSM telephone,help point,help phone, outdoor emergency telephone,Gaitronics,emergency call point,metal help telephone, camera phonepublic telephone,loud speaking phone,bank service telephone, elevator phone,window intercome,LCD telephone,hotline phone,talk a phone,cleanroom telephone,viking,weatherproof phone,SIP phone,voip phone, call point outdoor weatherproof phone,solar energy help phone,tunnel telephone,2G,3G telephone,trackside telephone, lift intercom,