Ip phone for business KNPL-700Plus
What is an ip phone?
IP telephony, also known as VoIP telephony, is a telephone that transmits over the Internet Protocol using the network as a carrier for signals, as opposed to the traditional circuit-switched PSTN. First, VoIP or VoIP is a communication protocol that describes the use of various protocols to replace traditional public switched telephone networks, allowing you to dial text, voice, and video over the Internet. Technically speaking, IP telephony is a device derived from the application of IP PBX technology. Ip phone uses the common sip protocol, and ip pbx technology to form ip pbx telephone system, ip phone is hosted on sip server. The system is based on PC-side ip pbx softwore, can be installed on any pc for management system.

Traditional PSTN phones and IP phone systems are not compatible, but you can use an analog phone adapter to adapt the PSTN phone to the Internet. Using an analog phone adapter to access the ip phone system, analog phones can only use language features, and there are no rich media features like ip phone.
What is an business phone systems?
The ip phone system is a communication system in which all ip phones work together and can centrally manage all IP phones. The system is mainly used to receive and generate communication data. The system generally includes an IP phone, a sip server and a network signal. Signal transmission is mainly linked to the Internet through a local area network (LAN) for extensive communication. Ip phone for business, this is a very good news for the enterprise, using the business phone system, you can centrally manage all business ip phone, reduce costs, and use rich media features. Using our self-developed business ip phone and sip server, and installing ip pbx softwore and softphone on the pc side, you can easily build a business phone system and greatly improve your productivity.
Use business phone system advantage
1. Easy installation, low maintenance cost, stable system and long service life.
2. Use network call, call free
3. Using ip pbx technology, unified management of ip phone, efficient, simple management.
4. Rich media functions, strong scalability.
What is the best phone system for a small business?
Use ip pbx system for unified communication, unified management of all ip phones, call restriction and other functions. Today, enterprise communication systems not only focus on call requirements, but also on the way customers communicate with each other, including audio conferencing, video conferencing, email communications, online faxing and text messaging. Traditional analog phones are unable to meet these requirements, and traditional analog phone installations are costly to maintain. Use ip phone for business to build a communication system with low cost, stability and easy management.

These are the main components of the ip phone for business communication system:

Phone: The normal voice communication through the network, the call is free.

Conference call: Use ip phone for multi-person conference calls.

Instant messaging: a tool similar to online chat

SMS: Send text messages directly using ip phone.

Fax: Transfer files such as documents online
The 6 line enterprice-class ip phone for business
The KNPL-700plus is a high-end business IP phone for users who need flexibility and advanced features to easily handle busy work.Complex work needs. The KNPL-700plus's upgraded color display has 10 DSS buttons, the two most on the 3.5-inch side color display.More than 96 DSS buttons (32 physical buttons) can be configured, so the KNPL-700plus can be configured with up to 106 DSS buttons for setting Set BLF/speed dialing, multicast function, etc. KNPL-700plus is also equipped with HD voice, built-in Bluetooth,support WIFI link, support EHS, 100M dual network port PoE, can be connected with Ip camera / video access control. KNPL-700plus with high-end features can greatly enhance the company Industry communication efficiency.
The Voip Telephone Special Function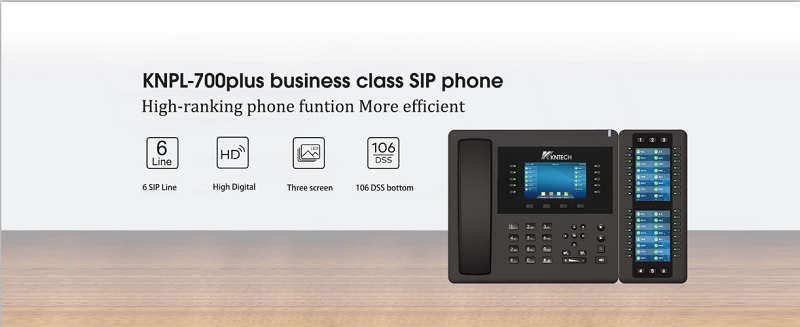 1.HD Audio,handset and speakerphone with support for wide-band audio.
2.6 line keys with up to 6 SIP accounts,8MPK extension keys with dual-color LED with 2 Left/Right keys.
3.Dual LCD screens with digital BLE keys.
4.Swappable face plates to allow for easy logo customization
5.Dual sitched auto-sensing 10/100Mbps Megabytes Ethernet ports with integrated POE.
IP phone for business size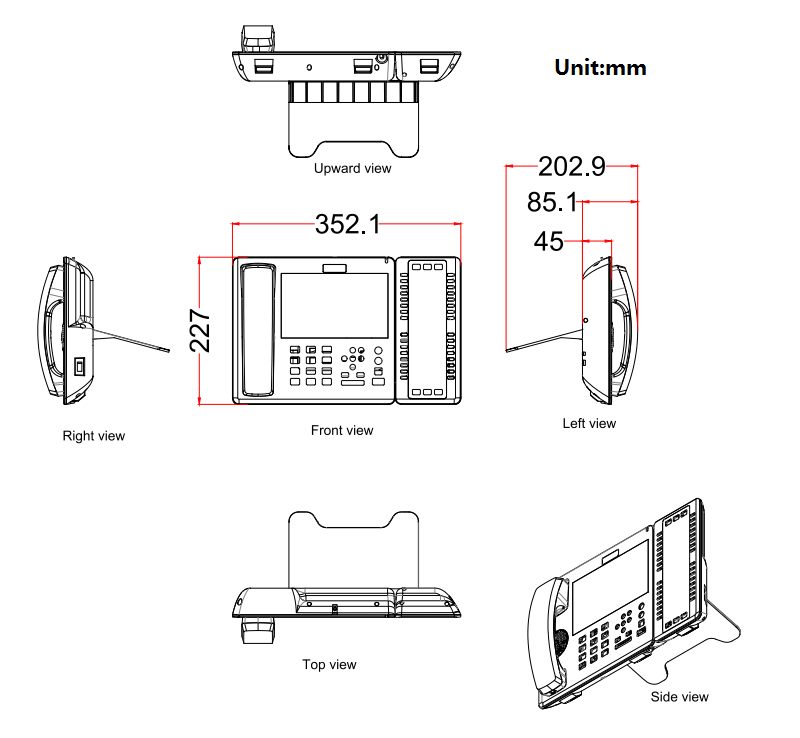 7.2-Inchs Colorful screen Two 3.5-Inchs DSS screen
The surface design is very elegant,with touhch screen and high resolution screen.
With the intelligent user interface it could be breakthrough surface and experiment.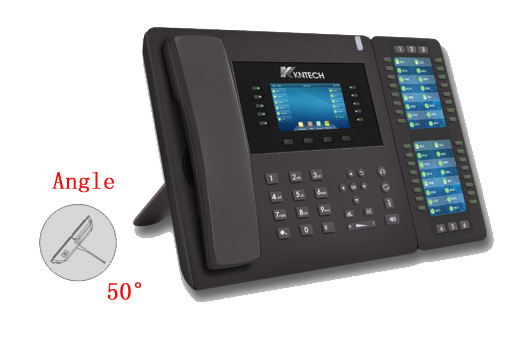 Function Schedual
*6 SIP Line tripartite conference
*HD sound quality.(handset and speaker)
*4.3-inches colorful screen
*Two 3.5-inchs DSS Colorful screen
*Megabytes Double Network Port,POE is optional funtion
*Inner Bluetooth function
*Surport mainstream ip/pbx/softswitch/IMS Platform/3CX,Asterisk,Broadsoft,Elastix,Avaya.
The key function about the conference video telephone
1.HD Display: HD display. Clear images and support multi-window multi-person video conferencing.
2.Handset: Magnetic handle, hang up and the phone hangs up.
3.Speaker: Speaker, power up to 8w.
4.Direction key and return key: functional button
5.Keypad: available for dialing and text input
6.Hand/Pick up
7.Volume: used for volume adjustment
8.Hands-free
9.Mute: Main menu
10.Refresh: Used for data refresh.
11.Audio
12.6 page of DSS key.
13.32*6page total 192 DSS key.
14.Indicator light
15.Camera:
16.KNTECH: HONGKONG KOON TECHNOLOGY LTD logo, using laser engraving technology, engraved on the phone panel, not easy to fade and destroy.