What are business telephone systems?
The business telephone systems are a unified centralized management telephone scheduling system based on the ip network. With the development of the telephone, from the beginning of the analog telephone, to the Internet phone, and now to the ip telephone, the development of the phone is more and more abundant. As people's demand for telephones increases and becomes more and more abundant, they are pursuing a complete set of telephone management systems. The business telephone management system is a telephone dispatching system based on ip pbx server, centralized dispatch control room, analog telephone and ip telephone.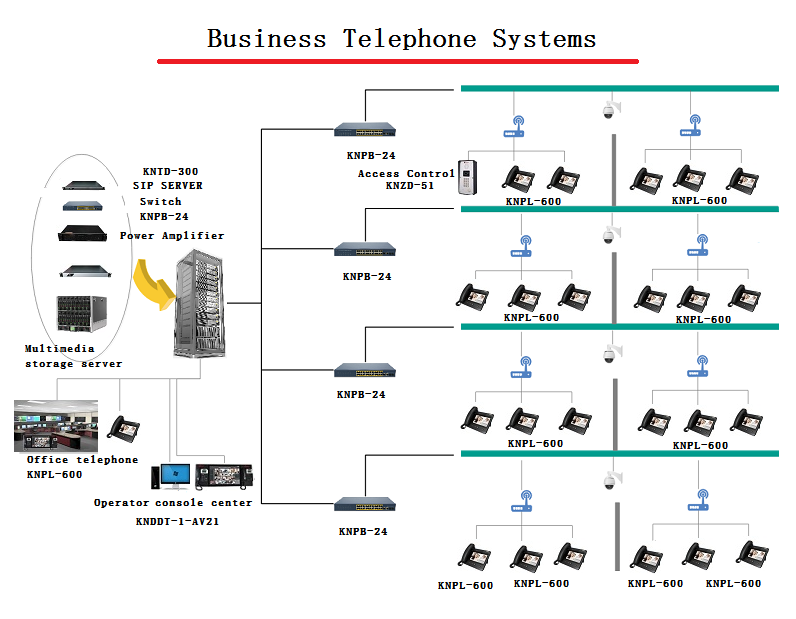 How to choose business telephone systems?
The simplest component of a business telephone system requires at least one ip pbx sip server, a multi-port network switch, a console phone, and multiple phone terminals. Commercial telephone system often have different choices depending on different application scenarios, different application scales, on servers, switches, telephone terminals, and networking methods. The Ip pbx sip server can be selected to be a 50/100/300/800/1500/3000 sip server depending on the size of the application. The switch usually chooses a 24-port network switch. The center console can be a video dual-handle, a voice dual-handle, or a computer plus an office phone. The telephone terminal can be an ip phone or an analog phone as needed. If an analog phone is used, it needs to match a voice gateway.
business telephone systems application
The business telephone systems are mainly used for indoor office telephones. The telephone system is especially suitable for enterprises that mainly rely on telephone services. The telephone uses VoIP, which fully realizes free dialing, free answering, and stable communication. The telephone system can be used for intra-office telephony scheduling of any size, and hierarchical gradient scheduling can be employed. It is also used for internal telephone scheduling with confidentiality. It uses LAN scheduling, and the central control center can also schedule, monitor, demolish, insert, and multi-party conference functions.
Advantages of business telephone systems
Compared with the traditional telephone, the business telephone system has the advantages that the VoIP communication is stable, the call is free, the multimedia function is rich, and the function is expandable. In the traditional analog telephone, only a simple voice call can be realized, and there is no connection between the phone and the phone, and there is no way to centrally manage. Using the Business Phone Management System, you can use the Operations Console to centrally manage the extensions below, and all call voices can be automatically recorded and uploaded to the server. For the extensions below, the function of restricting outgoing calls is implemented.
Why choose us?
HONGKONG KOON TECHNOLOGY LTD is Asia's largest industrial phone manufacturing expert. We are committed to the development of telephones and design solutions for telephony scheduling systems. We have been engaged in industrial telephones for more than 20 years. We have a professional team. We are a developer of telephone systems integrating R&D, production, sales and after-sales.
Tags:IP PBX Server,Telephone Operator Console,SNMP Network management system,Industrial Ethernet Switch,IP voice gateway,voip office phone.
Thank you for reading, if you have any questions or needs, please contact us!