KNZD-05LS Prison Phone
KNZD-05LS customer service phone/prison phone is mainly designed for Banks, prisons, supermarkets, tourist areas, etc. The machine is high-grade and beautiful, all stainless steel body, excellent waterproof and dustproof performance; The 11-bit zinc-alloy key is wear-resistant and corrosion-resistant, and the handle transmitter and receiver has excellent anti-noise performance, which can effectively filter background noise.
We can provide the prison Telephone System.
The current prison allows prisoners to take the initiative to call their relatives and friends, a safe, effective and easy to manage telephone system is essential. The traditional analog telephone system is not only difficult to install, but also difficult to maintain and manage, and has high fees. Now we can provide a prison phone system based on ip pbx technology for the prison, which uses network signals to communicate. Using the most advanced ip pbx technology, it is easy to install, easy to manage, and can be controlled in the control room, controlling outgoing calls, monitoring, and recording. The most important calls are completely free. If you need it, we will provide customized, prison phone solutions and provide professional technical support
.
Can you have a phone in prison?
No, the number of prisons is not allowed for prisoners to own mobile phones. The prison will install a strong voip prison phone to help prisoners contact the outside world.
How long do inmates get to tall on the phone?
The prisoner's talk time is usually determined by the regulations of different prisons, and some prison talk time is 10 minutes or 15 minutes. Every time the call arrives, the voip prison call will automatically hang up.
Features:
1. With auto-dial function ( also can set with four groups speed-dial number according to requirements)
2. Storage number can be modified freely.
3. With total function of normal phone
4. Vandal resistant and tamper-resistant hardware
5. Applicable for all the environment either unattended or attended

LCD Display
How to clear out number:
1. Open phone box, put the switch "1" to "ON" side on the PCB mainboard.
2. Connect telephone line and pick up the handset
3. Press the storage key (which have stored the number) twice.
4. Put the handset back on hook and put the switch "1" back to "1" side.

Main Product features
1. Cold-roll steel body, vandal & tamper-resistant hardware, easy installation.
2. Waterproof rating IP55 dust proof.
3. Full keypad with memory, 10 button programmable telephone, support free dial.
4. Magnetic reed hook-switch, with LCD display and key lock, no visible screws.
5. Lightening protection to ITU-T recommendation K.21.
6. Heavy duty handset with hearing aid compatible receiver, noise canceling microphone.
7. Handset with industrial strong metal cord.
8. POE power supply or DC12V powered.
9. SUS keypad keep waterproof and dusty proof.
10. Temperature range from -40 degree to +70 degree.
11. Support echo cancellation, wall mounted type.
12. Remote software upgrade, configuration and monitoring.
13. Optional 7 minute time out to release the line if the handset is left off hook. Optional
14. Powder coated in UV stabilized polyester finish.
15. The housing covered with a layer of reflective label for easy identification at night. Optional
16. Application: Prison, bank, airport, school, metro, railway station, LRT, hotel, supermarket and pedestrian areas in cities etc.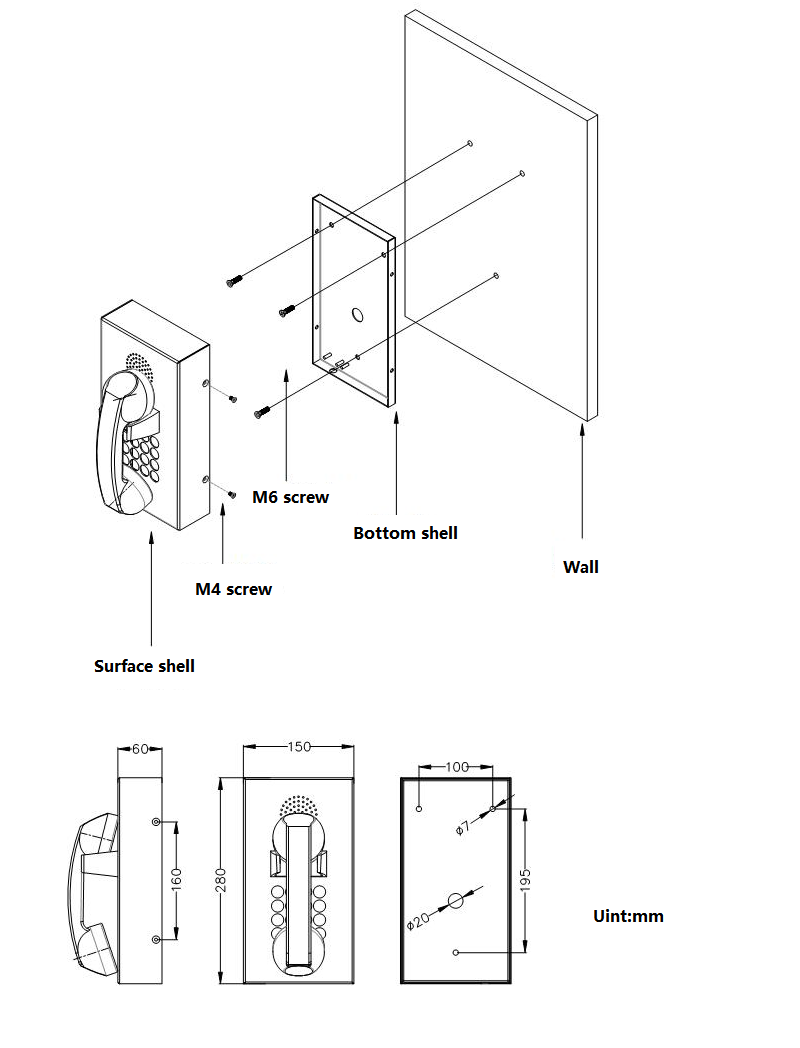 Main PCB
1.Well treated PCB used inside the phone.
2.Robust screw terminals used for the connection of ringer,handset,line in,hookswitch.
3.Selectable 7 minute time out,to release the line if the handset is left off hook.
4.All connectors be greased in production.
Handset
1.Kirk electro dynamic transducer for both handset transmitter and receiver.
2.Spring cable or armoured cable to attach the handset to the telephone main unit.
3.Stainless steel cable to connect exchange.
4.Inductive coupler fitted for hearing aid compatibility.
5.Handset integrity wiring to enable exchange to check if the phone is still operational.
VOIP OVER IP-SIP(Version)
Connection type:Rj45 Socket inside sealed enclosure
Power supply:External 5V dc
Call set-up Protocol:Session Initiation Protocol(SIP)
Configuration:DHCP or STATIC IP address provisioning
CERTIFICATION (Optional)

Unit size:280*150*130mm Unit: N.W:2.37KG
1pcs packing box size: 320*190*190mm Unit N.W:2.37KG Unit G.W:2.9KG
6pcs in 1 outer Carton box: size: 510*370*390mm N.W:14.22KG G.W:18.44KG