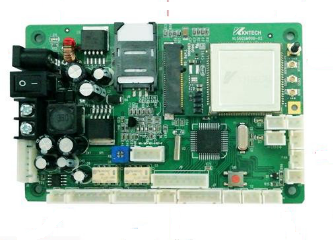 The GSM PCB board is manufactured by HONGKONG KOON TECHNOLOGY LTD, the largest industrial telephone manufacturing expert in Asia. GSM PCB board KN520 supports arbitrary switching of 3g/4g at present.
In terms of electricity consumption, it not only supports internal storage battery, but also supports external solar motherboard. In conversation, built-in 3 w / 8 Ω digital amplifier, drive loudspeakers directly, brings the absolute guarantee for the call quality.
GSM PCB board KN520
PCB Features
1. Support 3 G or 4 G, (optional).
2. Power supply: AC 110v/220v power or built-in rechargeable battery with solar powered panel optional.
3. Multiple key options: support dial any telephone number, the numeric keypad and function keys,speed dial keys, spspeed dial keys,4 button programmable telephone.
4.Voice interface: hands-free, handset, audio interfaces and an external amplifier interface.
5.Alarm Interface: Built-in three-way input and output control, options.
6.On board Amplifier: Built-in 3W / 8Ω digital amplifier, drive loudspeakers directly.
7.built-in Noise canceling microphone.
8.Waterproof grade about IP55.
9. Warning lights drive: support indicator lights for coming calls.
10. Support for automatic hanging up.
11. Send short message: send alarm short message(optional)
12. 2-way input or output control, (options).
13. 2-way dry contact output (options).
14. Optional 7 minute time-limited call.( This function upon buyer's requirement).
15. Application: Tunnel, metro, railway, LRT, speedway, marine, ship,offshore, mine, power plant, bridge etc.
You May Like:
KNDDT-1-AV21
Wireless telephone tower outdoor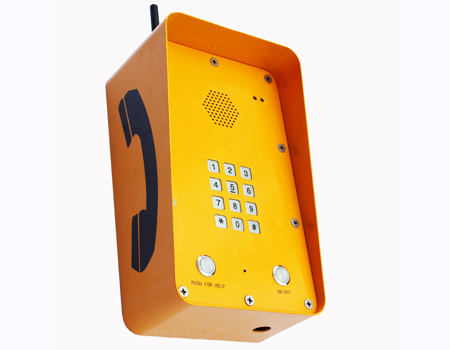 KNZD-09A
SOS Telephone GSM outdoor
KNZD-09A-1
Highway call box
---
==>>>> Product Specification
SPECIFICATION

1. GSM 2G/3G /4G Solar Powered with built-in rechargeable battery
2. MTBF:100000hours MTTR: 2 hours
3. Free dial (maximum length of each number is 16 digits)
4. Power : AC110~220V or 12VDc 1A or rechargeable battery(12V 14AH, option) Idle 1W, Max 10W
5. Solar panels : 18V /30W(option)
6. Limited time call, optional.
7. Auxiliary Contacts : 2 way (option)
8. Aux Output, dry contact Dry contact Load parameter
Rated load:0.3 A at 125 VAC; 1 A at 30 VDC Rated carry current:1A
Max.switching voltage:125 VAC,60VDC Max.switching current:1A
TECHNICAL SPECIFICATION :
1. Network Interface : (option)
GSM : 850/900/1800/1900M HZ WCDMA : B1/B2/B5/B8

4G Frequency
· China
LTE-FDD B1/B3 /B8
LTE-TDD B38/B39 /B40/ B41

· EMEA/Korea/Thailand/ Europe
LTE-FDD B1/B3/B5/B7/B8/B20

· North America
LTE-FDD B2/B4/ B5/B12/ B13

· Australia/New Zealand/South America
LTE-FDD B1/B2/B3/B4/B5/B7/B8/B28

· Japan
LTE-FDD B1/B3/B8/B18/B19/B26
2. Ringing: internal Speaker 3W 8Ω
3. Power Supply: Re-chargeable Battery powered or DC 12V 1A or Solar panel power supply. (12V /14Ah, Solar panels: 18V /30W---option)
4. Time-limited call (option)
5. Temperature: -30°C- +60°Cemp
6. Relative Humidity: up to 90%
7. Built-in battery Standby , Idle power 1W. Call status power is about 3---8W
---
==>>>>Product Application
1. Public phone: mobile carrier; Remote mountainous areas; Difficult wiring areas; Network operators, supply, agents; Office business telephone; Enterprise wireless office phone
2. Carry out public phone service on public transportation, such as trains, buses, taxis, cruise ships, etc. to solve the communication needs of travelers
3. It is applied to the side of expressway as emergency communication telephone to quickly report traffic accidents from now on and quickly deal with traffic accidents
4. It is applied to the vast rural areas, mountain islands and other places with difficulties in establishing communication lines, temporary places or uneconomic places, to solve the temporary communication needs of the public
5. Act as emergency communication nephew in flood control, mountain fire prevention and other occasions. Report the disaster quickly and minimize the damage