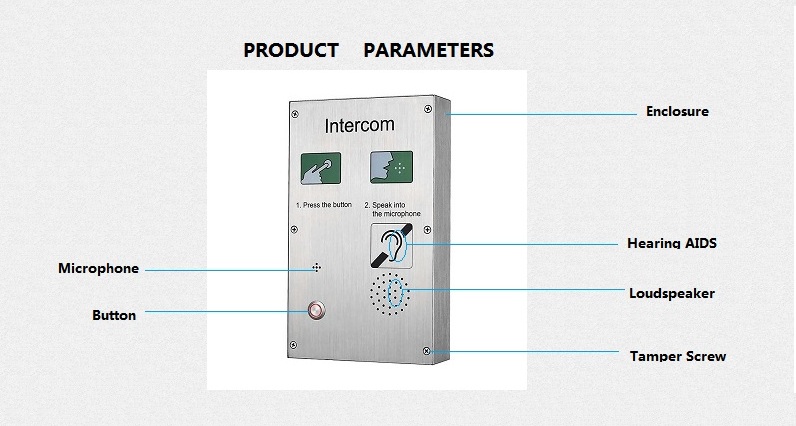 Emergency audio intercom for gate KNZD-30IL
We are the manufacturer of emergency audio intercom
intelligent audio digital door phone intercom With POE power supply electrical equipment in hazardous areas.
The audio intercom adopts one-touch speed dialing and has two-way voice calling function. Often used in subways, airports, train stations and other public places as an emergency audio intercom.
What is a home intercom system?
The home intercom system is a modern residential residential service measure that provides two-way visual communication between visitors and residents, achieving dual recognition of images and voices, thereby increasing safety and reliability, while saving a lot of time and improving work efficiency. More importantly, once the door magnetic switch, infrared alarm detector, smoke detector, gas alarm and other equipment installed in the household are connected to the security type indoor unit of the video intercom system, the video intercom system is upgraded. For a security technology prevention network, it can communicate with residential property management centers or community guards wired or wirelessly, thus providing security protection against theft, disaster prevention, gas leakage, etc., providing maximum security for the owner's life and property. Guarantee. It can improve the overall management and service level of the home and create a safe community living environment.
The role of home audio intercom
The intelligent home intercom system includes the communication of the entrance of the residential building, the residential and the residential property management department in the same network. It is an important line of defense against illegal invasion of the house and can effectively protect the personal and property safety of the residents.
Prevent the entry of idlers and improve the safety level of the family.
1. Stainless steel 304 body, vandal & tamper-resistant hardware, easy Installation.
2. Waterproof rating IP55 dust proof.
3. Support induction loop.(optional)
4. Hands-free button, double loudspeaker.
5. Lightening protection to ITU-T recommendation K.21.
6. POE power supply or DC12V.
7. Temperature range from -40 degree to +70 degree.
8. Support echo cancellation.
9. Remote software upgrade, configuration and monitoring.
10. Optional 7 minute time out to release the line if the handset is left off hook. This function
upon buyer's requirement).
11. The housing covered with a layer of reflective label for easy identification at night.Optional
12. Application: Tunnel, metro, railway, LRT, speedway, marine, ship,offshore, mine, power plant,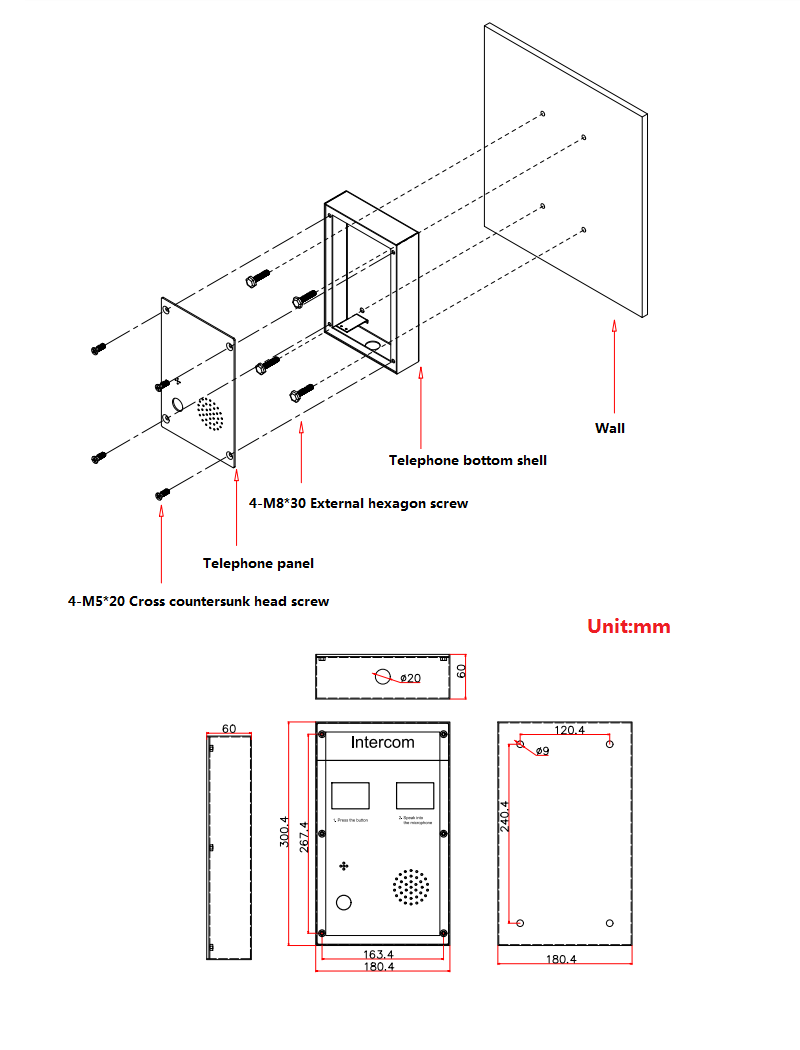 EN55022: emissions EN55024: immunity
Ingress Protection: GB4208-93 IP66 FCC
ITU-T Recommendations K21
EMC: EN50121(Railway application-Electromagnetic Compatibility)
PACKAGING
Unit size:

212*138*43mm

Unit: N.W

.

:1.

3

KG
1pcs packing box size: 260*180*90mm Unit G.W.:1.5KG
6pcs in one carton size: 640*340*240mm G.W.: 10.5KG
---
==>>>> Product Specification
SPECIFICATION
VoIP SIP2.0 telephone DTMF dialing
MTBF:100000hours MTTR: 2 hours
Hotline (maximum length of each number is 16 digits)
Communication: Full duplex 2-way hands-free communication
Call Control Signaling:VOIP SIP Info(DTMF), RFC 2833(DTMF)
Power:Power over Ethernet, IEEE802.3af, Class 0 Local power, 12VDC,Idle 2W, Max 10W
Auxiliary Contacts:1 Aux Output, dry contact
Contact Ratings. Load: Resistive load
Rated load:0.3 A at 125 VAC; 1 A at 30 VDC
Rated carry current:1A
Max.switching voltage:125 VAC,60VDC
Max.switching current:1A
Audio Codes:G.711, G.722, G.729
Network:10/100 BaseTX Ethernet, RJ45 connectors, Cat5e or better
IP Protocols:IPv4, TCP, UDP, TFTP, RTP, RTCP, DHCP, SIP
LAN Protocols:Power over Ethernet(PoE,802.3af), WLAN(IEEE 802.3af), Network Access Control(IEEE 802.1x),STP(IEEE 802.1d), RSTP(IEEE 802.1d-2004)
Programming:Non-volatile flash memory programming and configuration through Web GUI
Management and Operation:DHCP and static IP, remote automatic software upgrade, centralized monitoring, status LED
Echo cancellation code:G.167/G.168
---
==>>>>Please Email US
marketing@koontech.com
This product model:KNZD-30IL
You May Like: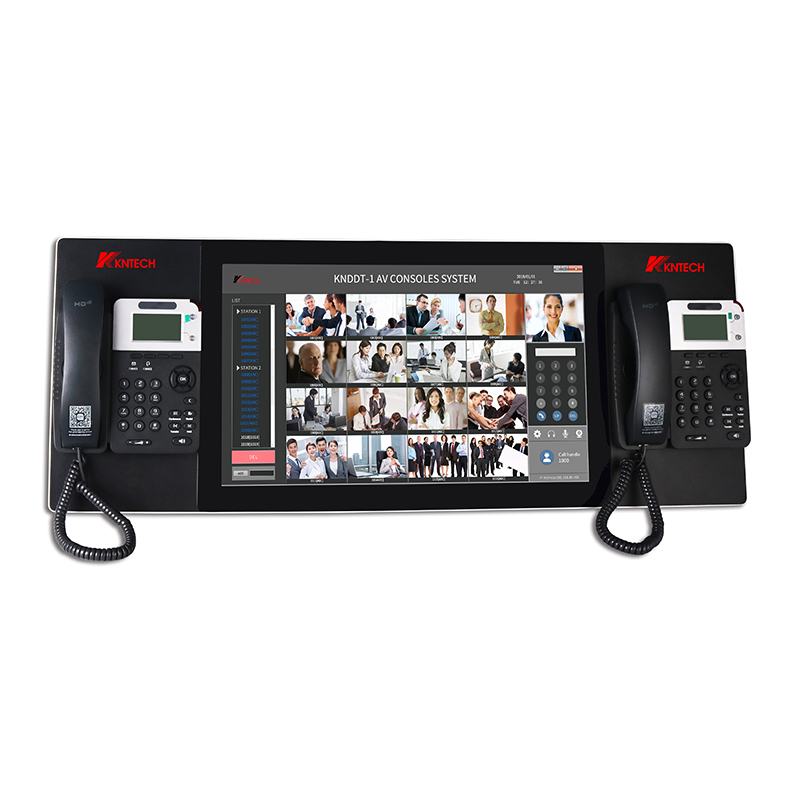 KNDDT-1-AV21
Operator console center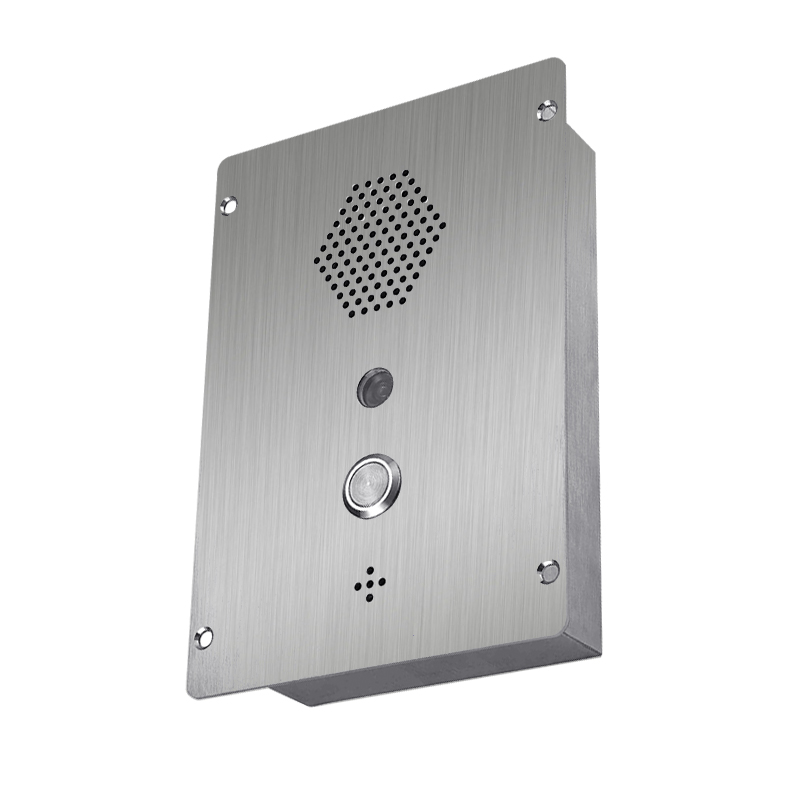 KNZD-37
SIP video telephone
KNZD-36
Elevator intercom